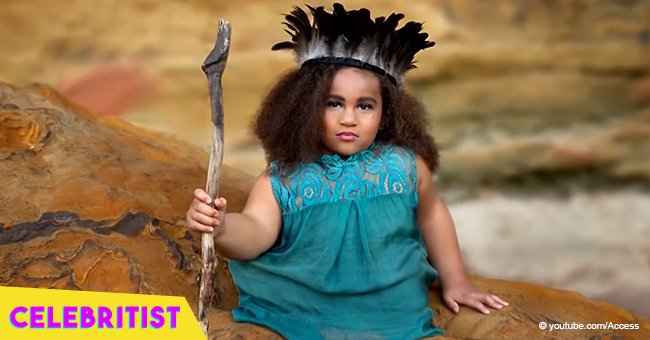 Photos of 8-year-old 'Warrior Queen' with no legs goes viral

Stunning photos of an 8-year-old girl with no legs has drawn the attention of many not for the her lack but for her beautiful pictures as a "Warrior Queen."
Eight-year-old La'Marea Wadell is a captivating model at such a tender age that you wouldn't even realize she didn't have any legs in a photo shoot she recently did. Dressed as a "Warrior Queen," she carried the expression and the confidence of a professional model.
Photographer Leslie Dye was responsible for the striking photos of Maree, as she's fondly called. Maree was born without her legs due to a condition called Caudal Regression. Doctors detected her condition when her mother was still pregnant with her at 16 weeks. Her mother said Maree has proved to be a miracle in her own right, surviving all the health scares that led her in and out of the Children's Hospital since her birth.
Maree is currently in school and apart from the setback of hurtful words from classmates who don't understand her condition and the curious stares of adults who come across her, she's a pretty confident girl who believes she can do anything others can do and even surpass them.
Maree's photo shoot which has gone viral is a testament to the kind of girl she is, one who isn't allowing her lack of legs to hinder her from doing things she loves. When her mother found out about a contest for models from a Facebook post of Dye's photography agency, the excited mom immediately called Dye to inquire if Maree would be qualified to join with her condition. Dye encouraged Maree's mom to register her daughter because her condition is what makes her special.
Maree was equally excited to take part in the photo shoot and felt like a princess despite the cold morning that didn't seem to bother her when the cameras started clicking. She was made to dress and pose as a "Warrior Queen," and she nailed it like a pro. Dye said she didn't know much about Maree before meeting her except that she was spunky and loves to pose for pictures as told by her mom. During their shoot, Dye was impressed with how natural it was for Maree to elicit expressions. She recalls,
"During one of the shots she goes 'I'm going to give you my duck face because it's working for me,' and then she just gave me that face and it just worked for her"
Maree's photos turned out so beautiful and captivating that you wouldn't even notice she didn't have any legs.
Following her popularity, she was interviewed by NBC revealing how wise and confident she is. Speaking about her uniqueness, she said,
"Just some people when I meet them they are like how is that girl made like that and why is she made like that and they are just curious. I say God made me this way. He made me it for a reason and I tell them that you can do what I can do, I can do what you can do, and I can do it more."
At the time of her interview, Maree already set her sights on learning how to swim. She intended to get in touch with a para-Olympic swimmer to teach her. It's safe to say this little girl is just beginning and has bigger plans for her future.
Meanwhile, another girl born without legs and abandoned when she was a baby has done wonderful things with her life. Kanya Sesser, now 23, is currently training for the 2018 Paralympics apart from being a model for athletic companies and lingerie too. She's proud of the fact that she feels sexy in a lingerie even without legs. She earns $1,000 a day just by posing in them. Like Maree, Kanya is living her life to the fullest. She's a successful skateboarder too having been used to getting around on one after learning to walk on her hands.
Maree and Kanya are proof that nothing is impossible if you put your mind and heart into it.
Please fill in your e-mail so we can share with you our top stories!