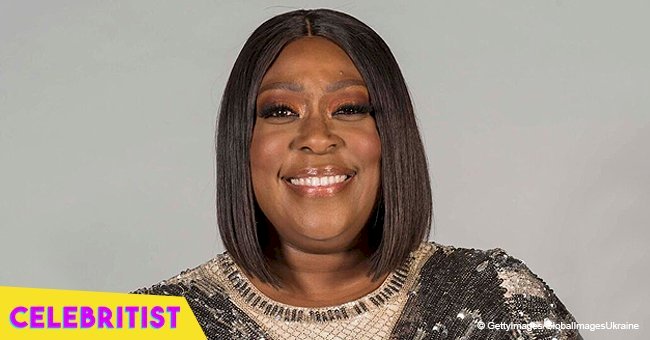 Loni Love shows off slimmer curves in peach, silky midi dress after impressive weight loss
"The Real" co-host and comedian, Loni Love recently poured her slimmer curves into a silk midi piece and took to Instagram to flaunt the results. The weight loss looks really good on her.
Love looked splendid in the peach-colored dress that featured an overlap in front. Combined with her silky, long hair and gold bangles, the TV host found the balance between comfy and classy. She also noted in her caption that "fashions for plus size women have improved this season."
While Love is still considered plus size, the comedian has been on a weight loss journey for a while now, and in May, revealed she had shed an impressive 30 pounds. She took to Instagram with a Before-and-After photo of her weight at the 2017 and 2018 Emmy Awards respectively. Love also made a bold declaration:
"I will continue to take my time and focus on my health. Here is to 2019 and working on losing another 30!!!!"
Love started the "Loni Loss Challenge" a while back and had been inspiring fans from all around the world to work out and lose unwanted weight.
FRIENDS THAT WORKOUT TOGETHER
The "Love Him or Leave Him" author also has the support of her friends. She shared a photo last month with her friend and co-host, Tamera Mowry, and noted that working out with a friend has been helpful.
Love, 47, has always been open about her weight challenges, and the steps she's taking towards achieving her ideal size. She discussed with her co-anchors on "The Real" about how losing weight helped boost her sexual confidence.
Her former weight, she argued, made it physically impossible to experiment with new sex positions, and left her feeling sexually stifled and unsatisfied. Now, however, she doesn't have to "make sure [her] rolls weren't doing too much rolling around or wonder if [her] muffin top looked more like a bagel from the back."
THE WEIGHING SCALE: VERY IMPORTANT
Love is also leaving no stone unturned. She constantly weighs herself on the scale because the numbers motivate her. The Emmy Award winner added:
"I think it's important, especially if you really are trying to lose weight, to stay on the scale and make that part of your weight-loss plan. It's very, very important and I know it's helped me. And I think as you get older, too, it's important to pay attention to your weight, because you don't see a lot of fat, old people."
There's one thing Love is not too excited about with her recent weight loss though, and it's the exaggerated compliments folks throw her way. In another episode of "The Real," Love explained:
"Some people overexaggerate. I was at this premiere two nights ago, and the lady said, 'Loni! You're so thin!' And I'm like, '[expletive], I'm not thin like that!.' …Don't overdo it!"
Please fill in your e-mail so we can share with you our top stories!