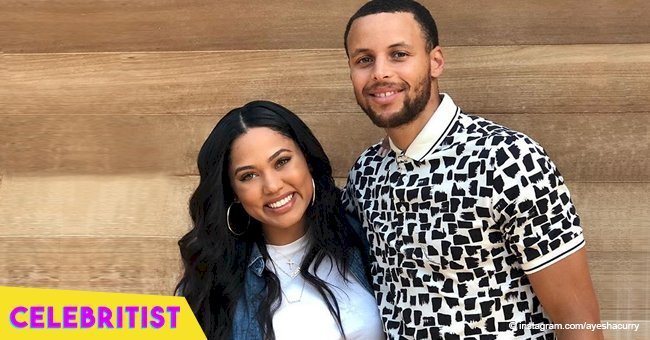 Stephen Curry's wife Ayesha melts hearts with photo of 2-month-old son snuggling on her chest
Ayesha Curry is such a blessed woman! The wife of NBA superstar Stephen Curry shared a snapshot of her infant son snuggling on her chest, and it's a view that will brighten anyone's day.
In the cute mommy-and-son photo, Ayesha reclined on a suede couch in an oversized sweater and ripped denim pants. Her son, Canon Curry, rested peacefully on her chest in a striped onesie.
The proud mom, who was giving Canon comforting pats on the back, confessed:
"I just can't get enough of you."
Fans trooped to the comments section to gush over the Canadian-American chef and her youngest child:
"I had three girls before having a boy and I never truly understood the whole "a boy & him mom" thing because I absolutely LOVE having daughters, but then he came and turned my world upside down and I totally get it now :) so happy for you and your beautiful family! Xoxo"- @wildandwhimsy
"Girl you giving me baby fever, where my birth control? cute tho love"- @shineluvstar
"Enjoy it Ayesha! They grow up so fast. My boys will be 16 and 8 this month. I miss holding them like this."- @__keisha2
Since welcoming baby Canon in July, Ayesha's Instagram has been filled with cute and cuddly photos of the TV host and her brood. Only last week, she was pictured cuddling with Canon and called him "Mama's Boy."
A few weeks ago, an overwhelmed Ayesha also posted a snapshot of her husband and their kids and revealed she still can't believe they are parents of three kids.
It seems cuddle time won't be as much as it used to be though, with Ayesha making plans to get back to work. The "Ayesha's Homemade" host is redesigning the menu for International Smoke, the restaurant she runs with fellow celebrity chef Michael Mina.
The supermom posted a few pictures on her Instagram account to announce the VIP unveiling of the new menu at the Texas restaurant.
Her resumption to work shouldn't pose any problems though. Ayesha, 29, already has plenty of practice balancing a busy schedule with her children. Before welcoming Canon, she and her husband were parents to two daughters, Riley, six, and Ryan, three.
Please fill in your e-mail so we can share with you our top stories!