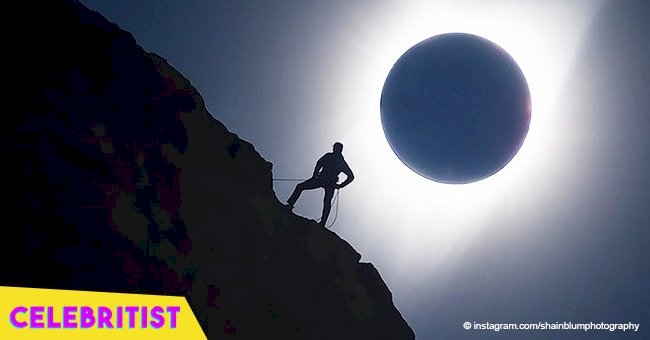 Photo of a rock climber posing in front of a total solar eclipse has gone viral
Photos from an ambitious shoot of a total solar eclipse had gone viral due to its beauty and the effort that went with achieving them. The rare pics featured a rock climber's silhouette against the backdrop of the eclipse.
In 2017, photos of a rock climber's silhouette against a total solar eclipse went viral for its beauty and ingenuity. The hard work that came with it was just as inspiring.
Photographers Andrew Studer and Ted Hesser carefully planned for days to achieve the perfect photos they're now popular for. In a behind-the-scenes feature of their ambitious shoot, they revealed how they came to the decision of where and how to go about taking their iconic snaps.
Studer and Hesser chose Smith Rock in Oregon as the perfect setting knowing full well it was one of the most sought-after locations for viewing the phenomenon. They teamed up with rock climbing couple Tommy Smith and Martina Tibell who were asked to scale up a boulder to achieve their masterpiece.
On the morning of the shoot, Hesser was feeling the pressure with not much time to capture the total eclipse the way they want to.
But their team did the math and made sure all conceivable angles were planned out. And as the eclipse began to take place, their perfect shot came into fruition. The result of their efforts paid off. Shortly after Hesser posted their photos on his Instagram account, it gained more than 55,000 likes. His Facebook post was also shared more than 77,000 times and liked 62,000 times.
Here's a behind-the-scenes look at the photo shoot that remains as one of the most phenomenal shoots of the rare phenomenon.
Meanwhile, a photo taken in Lethbridge at the time also gained momentum for its composite nature. According to Global News, Chris Oates' photo of the total solar eclipse with the high-level bridge was a composite photo which is defined as combining two different exposures to make one image. The photo was viewed more than a million times and shared close to 10,000 times. Oates has since received offers to purchase it.
Please fill in your e-mail so we can share with you our top stories!