Elvis Presley singing with daughter Lisa Marie and their duet is incredibly touching
On August 10, RCA record label released a new Elvis Presley Album called "Where No One Stands Alone." They also released a single that goes by the same name.
A video for the song features Elvis' daughter Lisa Marie Presley. Technology allowed the recording company to pull The King's voice to form the touching collaboration.
The late Elvis Presley finally got to have a duet with his daughter, Lisa Marie Presley. RCA created a new version of his song "Where No One Stands Alone."
It's part of the singer's posthumous compilation of gospel songs. A music video for the song shows the two singers singing together as if Elvis was still alive.
CRYING! beautiful! can't wait til it downloads friday! then thank lisa on saturday! thanks @ArgoMemphis #ElvisWeek2018 https://t.co/O7VwAByxoB

— Deena⚡️Dietrich (@DeenasDays) August 8, 2018
For more on this story go to our Twitter account @amomama_usa. The original sing first appeared on Elvis' 1967 LP "How Great Thou Art."
In the video, the lyrics are seen across the screen with family photos and in-studio footage of Lisa in a vocal booth. The footage was shot in studios in Nashville, Hollywood, New York, and two sites where Elvis had sung.
I'm so excited to share 'Where No One Stands Alone,' an album I've co-produced celebrating my Father's love of gospel music. This was the music he was most passionate about. He was so at peace singing gospel songs. I'm especially blessed to have duetted w/him on one of the songs. pic.twitter.com/yNswTjCRXK

— Lisa Marie Presley (@LisaPresley) June 21, 2018
In the project's liner notes, Lisa wrote:
"It was a very powerful and moving experience to sing with my father. The lyrics speak to me and touch my soul. I'm certain that the lyrics spoke to my father in much the same way."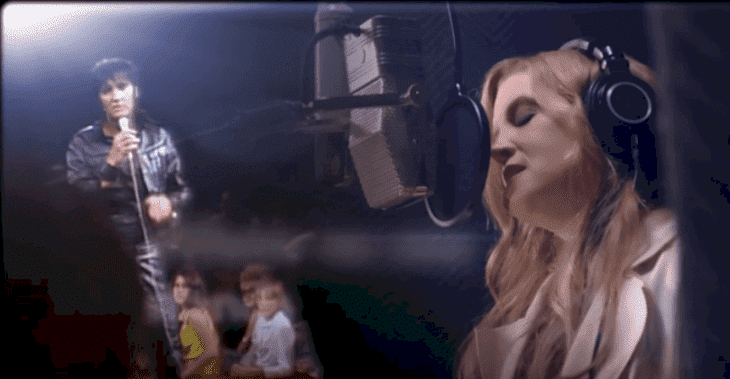 Joel Weinshanker, one of the project's producers had this to say:
"Recording with all that history, in rooms that Elvis recorded his most memorable tracks, with the singers that backed Elvis in his most powerful performances, and with the raw emotion of his daughter Lisa Marie singing 'with' her father in the same room her father sang in a memory that we will cherish for the rest of our lives, and beyond."
It's beautiful, and very well deserving. Brought me to tears and made me miss my own dad like crazy. ❤️

— 💜⟭⟬ ᴮᴱ TERRI ⁷ ⟬⟭💜 (@RicksZombieGirl) August 21, 2018
The album features 14 tracks and newly recorded instrumentation and backing vocals from many other Elvis collaborators. These include Darlene Love; Dr. Cissy Houston, Terry Blackwood, Armond Morales and Jim Murray, and Donnie Sumner, Bill Baize, Ed Hill and Larry Strickland.
Yass 😍👏🏻🙌🏻 I love this album so much ❤️ your father is by your side, always have and always will. We love you Lisa. Stay Strong 😘

— Liza (@LizaLang_) August 20, 2018
Many Elvis fans were moved by the beautiful collaboration. Some took to social media to express how they felt listening to the track for the first time.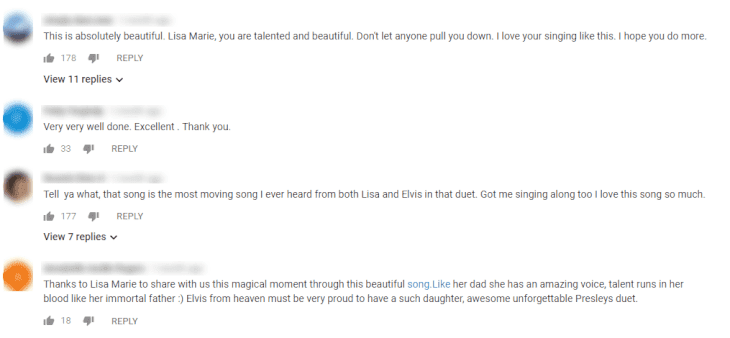 Lisa is a singer-songwriter who was born in Memphis, Tennessee. He mother is the famous Priscilla Presley who was married to Elvis.