Soldier whose home was robbed after hurricane Florence donates some of the money raised for him
Last month when Hurricane Florence hit in the US army medic, Luis Ocampo was sent to the frontlines. While he was gone, someone broke into his house.
A friend of his was devastated and started a GoFundMe account to help Ocampo and his family. People quickly surpassed the amount needed and now the army man is paying it forward.
Luis Ocampo, 24, left his home in Charlotte when his unit from the North Carolina National Guard was called to help with hurricane relief. He spent time in New Bern, a riverfront city which was ravaged by the storm.
His girlfriend Kailey Finch, 20, and their infant son also left the home to go to a safer place. Finch said:
"I went to Luis' parents, because I felt safer there."
Soldier Whose House Was Looted Gives Away Money Raised for Him: 'I Wanted to Show Kindness' https://t.co/26wlTrojeT

— People (@people) October 4, 2018
For more on this story go to our Twitter account @amomama_usa. She left the family dog behind inside the house.
On September 21, Ocampo returned home and found the back door open with their dog running loose in the yard. Finch shared that someone had gone in through their son's bedroom window.
She added:
"They busted the locks with a shovel, and propped open the window. The house was trashed."
The house was a mess with clothes and other belongings thrown around the house. The thief stole mostly electronics, including a laptop that Ocampo used for school work and game systems.
The person also stole a gun, jewelry, two jars full of change, and a box of coins Ocampo's grandmother had collected from around the world. The thief even helped themselves to the food in the fridge.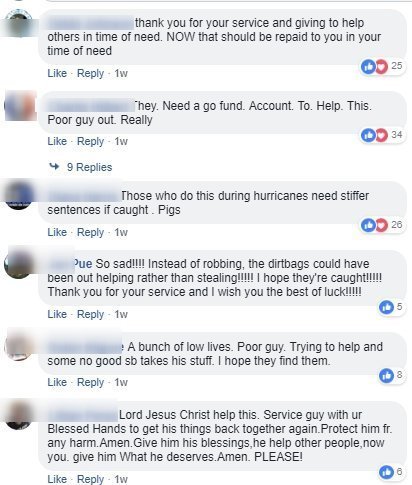 The couple took to Facebook to post about the break-in and asked for any information. Mary Elise Capron, a friend of the couple, saw the post and started a fundraiser on GoFundMe.
She wrote on the fundraiser:
"I have worked closely with Ocampo in the National Guard and he is an amazing soldier and person. I am honored to know him and cannot believe something so terrible could happen to someone so dedicated to the service, his family and school."
Within just 11 days, the fundraiser had reached nearly $15,000 of the $5,000 goal. Ocampo and Finch were overwhelmed by the help but asked Capron to close the donations on the account.
Still, people wanted to keep donating and the couple decided to pay it forward. The extra money they received will go to the Soldiers and Airmen Assistance Fund.
Part of it will also go to a soldier who began living in a hotel after a tree fell on his house during the hurricane. Ocampo said:
"A big part of wanting to give the donations comes from seeing how generous people have been, and I wanted to pay that back to someone else who needed help."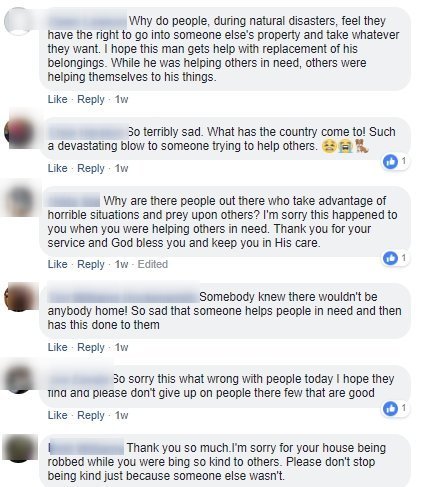 In Indonesia, the aftermath of the earthquake and tsunami on the island of Sulawesi has led people to start looting shops. However, now that aid is coming through local military colonel Ida Dewa Agung Hadisaputra revealed that soldiers had now been given orders to shoot people who are seen stealing from shops.
He said:
"If there is looting again, we will quickly fire a warning shot and then shoot to immobilize."
The military tolerated the looting for a few days because people were desperate but now survivors are looting things like electronics.