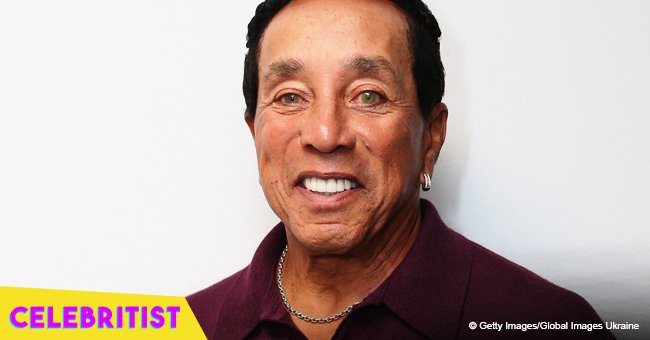 Smokey Robinson's granddaughter is all grown-up in recent photos with her boyfriend
Smokey Robinson is the proud grandfather of a beautiful granddaughter.
Smokey Robinson, the founder, and frontman of the Motown vocal group "The Miracles", is also a singer, songwriter, record producer, and former record executive.
What a lot of people don't know about him is that he has a granddaughter. Robinson has always kept his family out of the limelight, so much so that the world was astounded when photos of the beautiful girl popped up in his daughter Tamla Claudette Robinson's Instagram/indigobloo.
A MYSTERY GIRL NOBODY KNOWS
The beautiful young woman is posing in a pearly lamé evening gown, looking sophisticated and elegant, and Tamla, 49, captioned it:
"My Beautiful Daughter, My Best Friend, and My Everything!"
The Robinson family is so zealous of their privacy that Tamla's daughter's name is not common knowledge.
SMOKEY'S TWIN GRANDSONS
Robinson has two more grandsons by son Berry William Borope Robinson, 49. The two boys are twins, and little more is know about them, not even their names.
AND A THIRD SON FEW KNOW ABOUT
Robinson has a third child, Trey Robinson, who was born in 19834 and is now 34. Trey was conceived with another woman, during his marriage to Claudette. Robinson admitted to the affair, filed for legal separation and, later, for a divorce, which was granted in 1986.
HOW ROBINSON AND CLAUDETTE MET
Robinson and Claudette were married for 27 years and worked together on "The Miracles" from1957 to 1972. Claudette joined the group when her brother Emerson "Sonny" Rogers who was a founding member was drafted into the U.S. Army.
ROBINSON REMARRIED IN 2002
Robinson, now 78, remarried in May 2002 to Frances Gladney. This is another part of the singer's life that is shrouded in mystery. Though there are many photos of the couple at red-carpet events nothing is known about Gladney or their relationship.
A PUBLIC LIFE, A VERY PRIVATE MAN
Robinson, who is perhaps one of the most famous of all American recording artist and songwriters has managed to keep his private life out of the public eye and given his family a normal life.
AMERICAN MUSIC ROYALTY
Born in Detroit, Robinson suffered the difficulties and challenges of growing up poor in the North End. He revealed that he has known DIva Aretha Franklin since she was 5 and that she lived several houses from him on Belmont.
His uncle Claude nicknamed him "Smokey Joe" when he was a child a name which he would carry with him throughout his life.
A keen student, Robinson attended Northern High School where he was above average academically and an excellent athlete.
Though his main interest was music Robinson concentrated on his studies and went on to take courses as a barber and dental technician.
While still in high school, he formed a doo-wop group named the "Five Chimes", which would later transform into "The Miracles". The rest is, as they say, American music history.
Please fill in your e-mail so we can share with you our top stories!