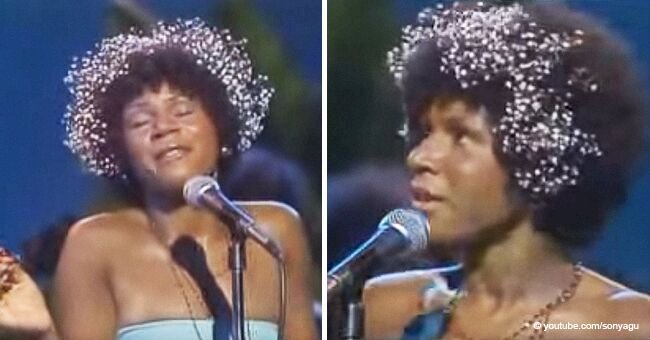 Remembering Minnie Riperton's performance of 'Lovin' You' that was written as a lullaby to her kids
Singer and songwriter Minnie Riperton, best known for her song "Lovin' You" was a very talented artist who sadly passed away at the age of 31, leaving two children behind.
In 1976, when she was almost 29 years old, she went to "The Tonight Show" to reveal that she had undergone a mastectomy due oldto breast cancer. When she was diagnosed, doctors gave her about six months to live.
However, Minnie fought and managed to go on tours for two more years, becoming the national spokeswoman for the American Cancer Society.
By early-1979, her right arm got immobilized. On July 12, while being at the Cedars-Sinai Medical Center in Los Angeles, she passed away in her husband's arms.
HER EPITAPH
Days later, Minnie was interred in the Westwood Village Memorial Park Cemetery in L.A. her epitaph is the first line of her most popular song: "Lovin' you is easy 'cause you're beautiful."
"LOVIN' YOU"
That tune was released in January 1975. It was part of her second studio album titled "Perfect Angel," and it was written by Minnie and Richard Rudolph, her husband. Three months after its release, it became a number one hit on the US Billboard Hot 100.
A LULLABY
As U Discover Music reported, "Lovin' You" was initially written as a lullaby to Minnie's children Maya and Marc Rudolph. At the end of the LP version, Minnie can be heard singing "Maya, Maya."
Years later, Maya, the actress and comedian known for working on "Saturday Night Live," learned that the song was written especially for her and her older brother.
MAYA DIDN'T KNOW IT WAS FOR HER
"I didn't really put together that 'Lovin' You' was for me and my brother. I heard my name and was kind of like, 'Oh that's cool, it's for us,' but we didn't really know," said the actress in an interview she had with U Discover Music.
MAYA'S CAREER
Even though Maya grew up most of her life without her mother, she managed to become a highly talented entertainer.
Apart from her roles in "SNL," she has worked in "Up All Night" and "Forever," and has been working in "Big Mouth," "Big Hero 6: The Series," and "The Good Place."
Please fill in your e-mail so we can share with you our top stories!