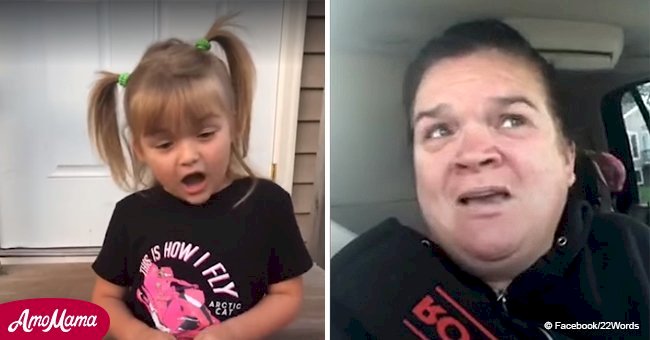 Girl reveals the reason she emptied her piggy bank, and mother cries over daughter's decision

The girl is only five years old, but she was compelled to step in and take action to help her schoolmate. Her mother posted a video to Facebook in tears.
Sunshine Oelfke of Ishpeming, Michigan may have been saving up money in her piggy bank for something else, something more suited to a little girl.
Instead, she used it to ensure that her classmate at the Birchview Elementary school could get milk at school.
Follow us on Twitter for more @amomama_usa.
According to CBS News, Sunshine's class of 20 students would need $180 a month to get milk to those who need it.
Half of the kids are unable to afford it, although it costs only $0.45 for a carton of milk.
Her mother described how she discovered Sunshine's generosity:
"I asked her what she was doing with the baggie of money. Her response put me in tears... 'I am going to give it to my friend at school because she don't get milk for snack. Her mom don't have any milk money and I do.' "
For Sunshine, there was nothing else to consider. Her pure selflessness moved her mother to share her story.
Sunshine's teacher, Mrs. Hausher, also got word of what the young girl was doing for her friends. She explained her reaction:
"I have always felt sad when I have had to tell a student, 'no,' when they ask if they can have milk. Thanks to Sunshine's act of kindness for one student, it has grown so much that it now includes everyone, which makes my heart happy."
She felt that others could help too and added:
"We will do this. I always tell my student when they do something that really amazes me, I get kindergarten goosebumps. I got kindergarten goosebumps from my toes to the top of my head."
Sunshine herself does not see the act of kindness as big of a deal as people seem to be making it.
Her mother said:
"She doesn't understand the impact she's made. But now she knows she can do whatever she puts her mind to."
The family created a GoFundMe page to raise more money for the students to buy milk. The description explains:
"Sunshine would like for all of her friends in her Kindergarten class to have milk for snack break every day with her. She went started to count the money in her snowmobile bank and stated.my friends mom doesn't have milk money but I do so her mission to help her friend began."
Within a week, over $1,000 was raised, far surpassing the original goal of $700. The students will now be able to have milk for the entire year.
Back in 2016, an eight-year-old named Ella displayed an act of kindness on a whim when she saw a homeless man outside a restaurant.
As she sat with her father in a Monterey, California restaurant, Ella saw the man outside and walked over with her plate of steak and potatoes.
Source: YouTube/ RM Videos
Her father Eddie Scott popped out his phone and quickly recorded the encounter. He later posted it to facebook where it garnered over 44 million views over a few weeks.
That same year, a soldier helped two hungry little boys who were unable to buy something to eat themselves.
Army Lieutenant Colonel Robert Risdon realized that two boys selling homemade dessert were struggling to get by.
So he offered to buy them whatever they wanted from the menu at a Taco Bell nearby.
Source: YouTube/ Jason Gibson
The witness who recorded the caring soldier's actions said they overhead the boys repeatedly saying thank you.
One said that he wanted to grow up and be just like the compassionate soldier.
Please fill in your e-mail so we can share with you our top stories!