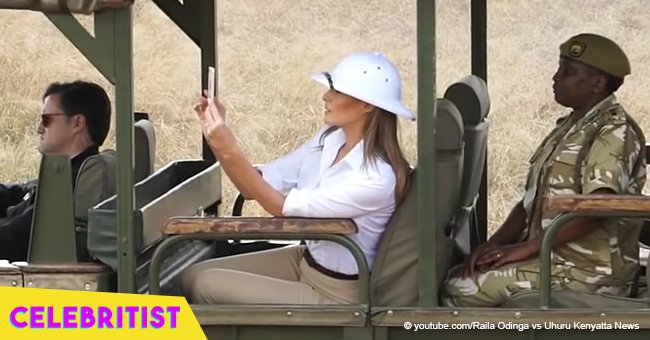 Melania Trump gets dragged over wearing colonial-style hat during Kenyan safari
Melania Trump faces backlash for wearing a colonial hat in Africa. Twitter users slammed her for her insensitivity and ignorance of African history.
Melania Trump is under fire, yet again, this time for her choice of headgear. While on a safari tour in Kenya during her first solo trip to Africa, the first lady was slammed for wearing a hat reminiscent of colonial civilization.
Melania visited Nairobi National Park on Friday dressed in a safari-inspired outfit consisting of khaki pants and a white shirt but it was her white pith helmet that earned the ire of Twitter users who blasted her for her ignorance.
"Melania Trump wearing a pith helmet on her trip to 'Africa' is more than a silly sartorial choice. It's a reflection of her outdated understanding of Africa," wrote political-science professor Kim Ri Dionne.
During the 19th and 20th century, pith helmets were often worn by European military personnel while seeking colonies in Africa and Asia. They remain symbolic of colonial oppression which is why Melania's choice of headgear is a big issue.
An African studies historian and coordinator at St. Lawrence University, Matt Carotenuto also slammed Melania who he says "completes the stereotypical trifecta- elephants, orphans and even the pith helmet."
Here are some of the other tweets aimed at blasting the first lady.
This isn't the first time Melania gained flak for her wardrobe choice. When she visited detained migrant children in Texas in June, she wore a jacket that said, "I really don't care, do u?" Many thought it was insensitive of her to wear the message considering her husband Donald Trump's recent crackdown on immigration. However, her spokesperson defended it as just a jacket with no hidden agenda.
Melania was visibly happy at the beginning of her African trip, her first big solo international outing. She was highly emotional during her visit to Ghana where she dropped by Cape Coast Castle, a slavery holding facility in the 17th century. She described the experience as something she would "never forget" after spending 10 minutes inside a male slave dungeon and walking through the "Door of No Return." Melania is in Africa to promote child welfare in the region and is scheduled to visit Ghana, Malawi, Kenya, and Egypt.
Please fill in your e-mail so we can share with you our top stories!