Woman notices a young couple pray over lunch after seeing their matching tattoos
A young couple gained public attention for their matching tattoos and their deep faith in God.
Michelle Torino-Barcelos shared about her encounter with the couple on the Facebook page, Love What Matters.
"My husband and I were having our late lunch at McAlister's Deli when I noticed a guy seated on our opposite side of the table waiting for his food. What caught my attention was the words written in his tattoo on his left arm. It says, "Together we serve" with a cross sign before it," she wrote.
Michelle told her husband to look at the stranger's tattoo discretely. She thought the tattoo was meaningful. Follow us on our Twitter account, @amomama_usa, to learn more.
"The word 'we' may mean as we, as a whole serving God, or 'we' can also mean him, together with his other half; it can be his girlfriend or his wife," she said.
A PRAYERFUL, TATTOOED COUPLE
Michelle took a photo of the guy and showed his tattoo to her husband. A lady then sat in front of him after a short while.
"I thought, it was like the sweetest thing ever that I saw from a couple, having that same kind of tattoo written on their arms! I was thinking, #RelationshipGoals!" she wrote.
She said her heart melted more when the couple started holding each others' hands as they prayed before eating.
"I was blown away! Not only by seeing how sweet they were but by just simply being bold enough in professing their faith in public. And for me, that is really what a relationship goal must be!"
After finishing their meal, Michelle could not help but stand up and approach the couple. She introduced herself and her husband and told the couple how happy and inspired they were looking at their display of deep love and faith.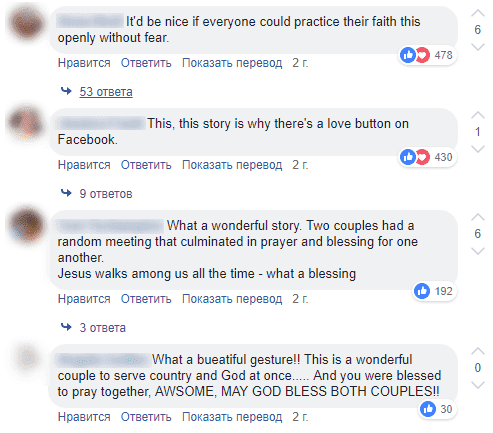 WORKING FOR THE US ARMY
Michelle was again blown away when the couple told her that they got married two months ago and that they were working for the United States Army.
The couple's display of love is reminiscent of another relationship that has earned public admiration - that of Keyshia Cole and her much younger boyfriend.
A video went viral of Niko Khale, who is 14 years younger than the singer and songwriter, tending to her while she was sick.