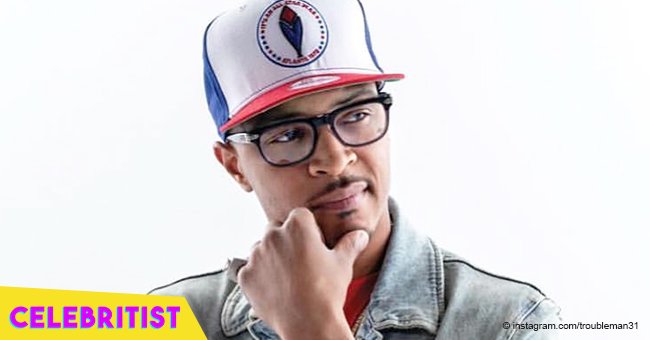 T.I. vows to be a better man, sincerely apologizes for past actions in latest single

T.I. is singing a new tune and it rings with an apology directed to his wife and his family.
T.I. has just released his most personal album yet and one of his tracks, "The Amazing Mr. [expletive]" is an ode to his wife, Tiny Harris. It's no secret T.I. has wronged the Xscape singer countless times in the past and his new song is his way of owning up to them and saying "I'm sorry."
T.I. was a guest in Zane Lowe's "Beats 1 Radio" when he opened up about the story behind his apologetic song. The rapper said it was the first time he was addressing his transgressions musically having shied away from the topic in the past.
"I felt like this is a time where the music is dope. I just felt that I had to lay it out, I had to put my cards face up on the table."
In the track, T.I. delves inward and reflects on his failures as a husband and vows to be a better man. He raps,
"It's amazing all the shit I done, such examples I've been setting for my son, all she did was stay down and have my kid, all the time just to realize that I ain't shit."
The song is part of T.I.'s newest album, "Dime Trap" which comes a decade after the release of his hit album, "Trap Muzik." During his interview with "The Breakfast Club,", the rapper/actor revealed his son Messiah even produced one of the tracks in the new album and was paid for it.
"My other son, Messiah, he produced on the record [...] It's called 'Light day.'"
T.I. also disclosed that his son negotiated his fee and earned $10 thousand for his work. The song has turned out to be T.I.'s favorite in the album.
Things are visibly better between T.I. and Tiny who've been dragging their divorce since it was filed in 2016. The couple has confused fans who've heard of their countless breakups and reconciliations over T.I.'s cheating which Tiny would eventually forgive. Now it seems the couple is sailing calmer waters as they were recently spotted getting cozy at the BET awards. On T.I.'s birthday last month, they went on a romantic trip and even shared an intimate night swim.
If T.I.'s new music and recent actions are an indication, it looks like he's turning into a new leaf and Tiny should be pleased. Here's a glimpse of the singer's latest song.
Please fill in your e-mail so we can share with you our top stories!