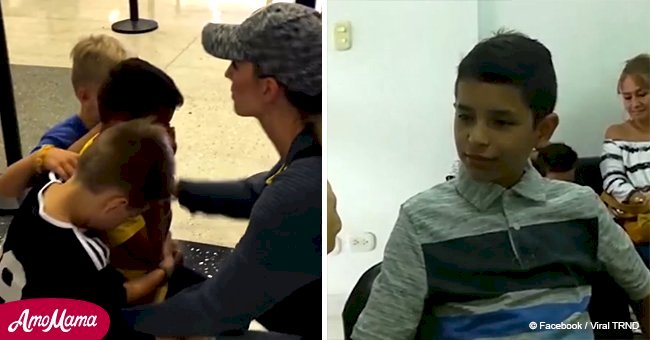 Orphan breaks in tears when learned secret why parents of 4 took him for a month
Amanda and JoBen Barkey and their four kids all have lots of love to give. One deserving orphan was on the receiving end of their big hearts this past summer and with some help, will be for the rest of his life.
With four little ones in tow already, the Barkeys' decision to host a needy child was never going to be an easy one. But it was something they were sure they wanted to do.
The parents reached out to other countries and they were paired up with an 11-year-old named Sebastian.
The heartwarming Facebook video they prepared garnered over 28 million views. It is found below.
Over the course of a month, Sebastian's life was transformed by love and adventures with Asher, Judah, Mishayla, and Jameis.
He was treated to hiking trips, boat rides, and even attended a baseball game according to ShareTap.
"We are really enjoying our time with Sebastian. He has blended right into our family as if he's always been here! He's kind, compassionate, caring, confident, respectful, grateful, goofy, and funny."
The bond between Sebastian, the three boys, and the little girl grew more quickly than expected. When the parents saw this, they got an idea.
Sebastian had to return to his native country. Then, he received a life-changing video call from all six of the Barkey's.
Having cleared the necessary paperwork, Amanda and JoBen got creative about telling Sebastian that they were going to adopt him.
They sat down with their children and each of them held a sign. Each person came forward and said in Spanish what they are to Sebastian.
The boys' signs each said "Hermano," for brother, while Mishayla's sign said "Hermana," meaning sister. Amana's sign said "Mama."
Sebastian was overwhelmed and broke down in tears. He then said how he's happy he will finally have a family for his whole life.
But the process is not yet complete. The family set up a GoFundMe page so that others can assist in getting Sebastian back into the Barkeys' care before Christmas.
Back in September 2018, a 10-year-old girl named Hailey was blindsided by her stepmother's announcement to adopt her.
It was Hailey's birthday and her stepmom Brigitte made it extra special.
She handed Hailey a necklace which said: "My daughter holds my heart," and then she gave her a certificate to read out loud.
When Hailey read the message saying the judge had decided she would be legally adopted, she started crying.
Brigitte, whom Hailey often called her "supermom," cried with her and the two embraced.
Source: YouTube/ Brigitte Fries
Brigitte now has two beautiful stepdaughters to call her own and she seems to love them very much.
If you're interested in adopting a child, extensive research has to be done. After applying, there is a home study, and some training involved.
It's advisable to hear stories from real adoptive parents and reach out to local agencies.
There are over 400,000 children in foster care in the United States that are awaiting their forever family.
Please fill in your e-mail so we can share with you our top stories!