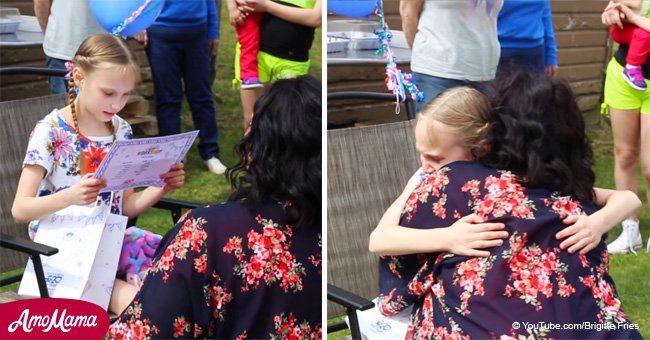 Little girl has an overwhelming reaction when told she's being adopted
Her adoption papers are a little girl's best present ever
Hailey was enjoying an outdoor party with her family and friends when she started to get suspicious that something strange was going on.
Hailey, 10, was led by her stepmother to the center of the yard and sat on a chair. Then her stepmother gave her a bag full of gifts.
The little girl asked her stepmother why she was getting so much attention and was told it was her birthday.
What followed was captured on video and has garnered over a million views on Youtube.
"Why am I the center of attention?"
Hailey Fries, Youtube, 9th of April 2017.
Lots of lovely presents for the "birthday" girl!
Hayley's stepmom, Bridgette, started giving her her "birthday" gifts. A bouquet of colorful balloons, then a cute stuffed animal.
Then, Bridgette gave Hailey a necklace, which read, "My daughter holds my heart." At the bottom of the gift bag was a certificate, which Briggette asked Hailey to read out loud.
Read more heartwarming stories on our Twitter account @amomama_usa.
Hayley discovers it's her surprise adoption party
Hailey started reading the judge's ruling which stated that it was in her best interest that she be legally adopted by Bridgette and that she would be her real parent from then on.
Hayley started weeping when she realized what was happening and threw her arms around her new mother, who was crying just as hard.
.
Hayley happy to belong to "Supermom"
Brigitte Fries and Hayley's father had been fighting the court system for five years, and she had filed for adoption a year before it was approved.
Hayley had always called Bridgette Super Mom, and now this loving woman had become her "real" mother.
Hayley is Brigette's second adoption
The judge who approved the adoption granted Brigitte full parental rights and recommended the adoptions which she felt was in Hayley's best interest.
Hayley is Brigitte's second adopted daughter. She is now the mother of two beautiful girls.
Read more heartwarming adoption stories below.
Footage shows 11-year-old's emotional reaction to hearing surprise adoption news
Bittersweet moment girl bursts into tears when she hears she's being adopted
Please fill in your e-mail so we can share with you our top stories!