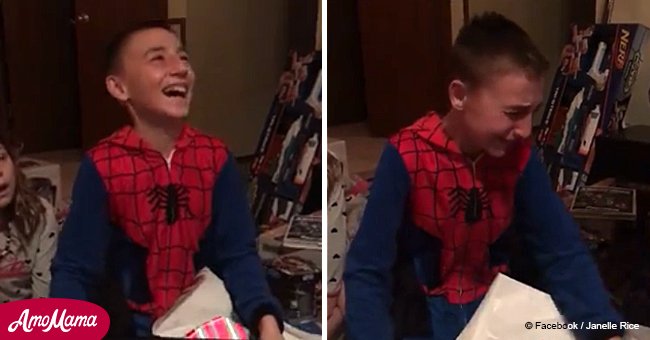 Footage shows 11-year-old's emotional reaction to hearing surprise adoption news
It was the best gift 11-year-old Landon Rice could have wished for and it made his Christmas unforgettable.
The boy's mother, Janelle Rice, posted a video on Facebook that showed the emotional moment when he found out about his adoption.
Landon received a gift on Christmas morning. He is seen smiling as he opens the gift and his mother asks him to read it.
The young one is overcome with emotion as he reads the framed certificate of adoption from his step-father Daniel Rice.
Janelle asks him if he can read out loud, however, he is crying by this time and he nods his head saying he cannot.
The little boy is left speechless when he opens the wrapping paper and then burst into joyful tears. He then gets a hug from his new father.
He begins to cry even as his father, Daniel, holds him in a tight embrace.
Janelle quoted the German poet Friedrich Schiller on her post, 'It's not flesh and blood, but the heart that makes us father and son.' It seemed the most appropriate line for the situation as she wished her family a Merry Christmas.
Responding to ABC via email, Janelle said that she is Landon's biological mother. He was five months old when she began dating Daniel. The couple has been married for over 10 years now.
She added that her husband took her son in 'as if he were his own.' He has never treated Landon any differently from day one.
The video went viral and was viewed over 11 million times in just two days. It has now been watched more than 44 million times and has been shared more than 430,577 times.
Janelle expressed happiness over the attention the video received. She hoped that the video will show people that 'love is love – by blood, marriage or connection.'
She added that for some people, a small act such as a step-parent adoption meant the world.
Please fill in your e-mail so we can share with you our top stories!