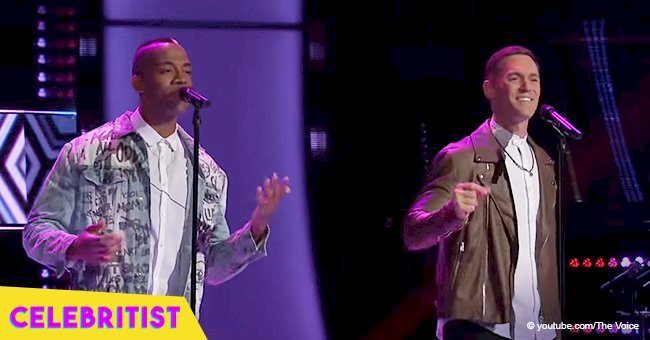 Gay singing duo moves Kelly Clarkson to tears during 'The Voice' audition
The one and only duo on "The Voice" this season has brought Kelly Clarkson to tears after their rendition of The Spinners' song "Could It Be I'm Falling In Love" during their blind audition.
"The Voice" shared a sneak peek of their latest episode to People over the weekend, where a duo named "OneUp" sang their beautiful rendition.
The pair named Adam and Jerome, who are both based in New York, stunned the judges with their strong vocals and their beautiful performance - which featured their own love story.
After their stunning performance that had Jennifer Hudson saying that they "took them to the rafters", 36-year-old Adam shared:
"We met, and then we fell in love, actually."
Hudson, 37, and Clarkson, 36, began to gush at what the contestant revealed. However, it wasn't just their story that wowed the judges, but even their talent. That is why when the judges started to banter about the type of sound OneUp would produce, Jerome said that "Motown" is the type of music they want to do in the future if given the chance.
It turns out that Adam and Jerome brought along their families to their audition, and the hosts proceeded to invite them up the stage. Kelly, bursting into tears, shared a beautiful statement:
"It's going to sound super cheesy and I'll try not to cry because I'm that girl, but… In a time in this country where it's so divisive, this is such a beautiful thing. It is proof that in this country, love is limitless … It's the most beautiful thing that's happened to me this season."
Please fill in your e-mail so we can share with you our top stories!