Police see a driver crouched near his car and realize he's trying to save a tiny creature's life
When Cristopher Felix realized he had run over a squirrel, his actions surprised two police officers and the squirrel.
While out on a drive near his home in Brooklyn Park, Minnesota, a squirrel ran out onto the street in front of 19-year-old Felix. Seconds later the squirrel was lying lifeless in the road after being struck by this aspiring college student.
Felix stopped, feeling bad for having run over the squirrel and wanted to see if he could save it. The squirrel wasn't moving so Felix picked it up with his glove and set it down on the grass out of further harm's way and started chest compressions.
Read more on our Twitter account @amomama_usa.
Felix had done chest compressions for about 10 minutes when two passing police officers on patrol noticed something going on and approached Felix. Much to the amazement of Deputy Chief Mark Bruley and his partner they witnessed Felix performing CPR on the little squirrel.
After almost 20 minutes of Felix performing CPR, the squirrel got up and ran away, the stunned police officers high-fived Felix praising him for his efforts in saving the squirrel. Deputy Chief Mark Bruley said:
"How often you come across a story where you see a police officer come upon somebody doing CPR on a squirrel? Just the humanity of it. It wasn't just police officers and a citizen there. Those were just three people enjoying the moment."
Animal lover Felix commented:
"I felt pretty bad for what happened. All I was thinking about was just to try help the squirrel out because I just thought that would have been the best thing."
Video captured by the body camera of one of the officers and have gone viral, however, Two Cities Police Department would like to remind citizens to take injured wildlife to a wildlife rehabilitation center as they have the experience and equipment to treat any wounded wildlife.
Another man felt the same as Felix when he came across an injured bird while working his ranch in Argentina. He wanted to do the right thing and try to save it. On closer inspection, Della Gaspera saw it was a young condor with an injured leg that had fallen out of its nest. He promptly took care of the leg knowing it could return to the wild once healed and even got a condor 'kiss and cuddle' as repayment for his life-saving deed.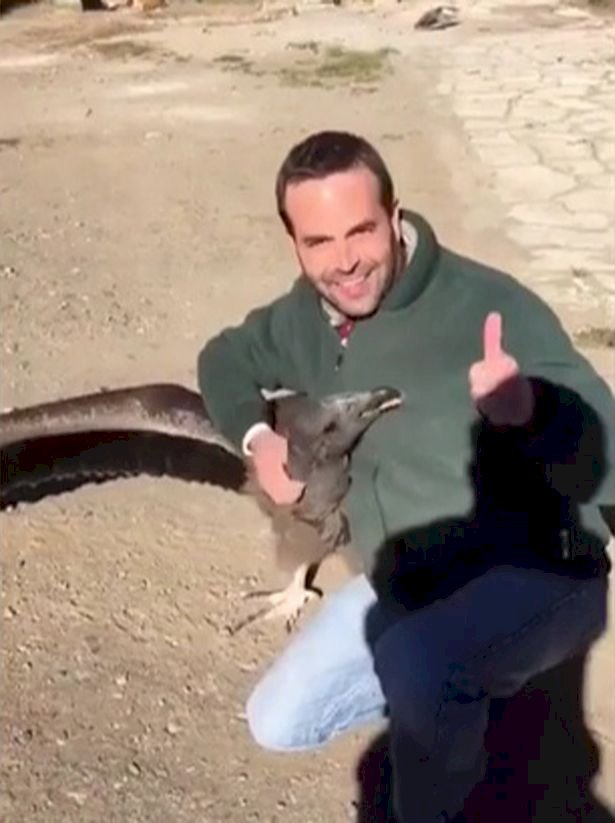 However, to see the animals return to life in the wild is repayment enough for doing the right thing, as also seen by another a squirrel saving video that surfaced earlier this year on social media.
A man reportedly from Cartagena, Columbia, gave a squirrel CPR on the seat of his motorbike after being electrocuted on a power line. It took around 2 minutes of chest compressions and air blown into the squirrel's mouth before it breathed on its own. The rescuer then stroked the squirrel for a short time before it jumped up and off the motorbike alive and well.