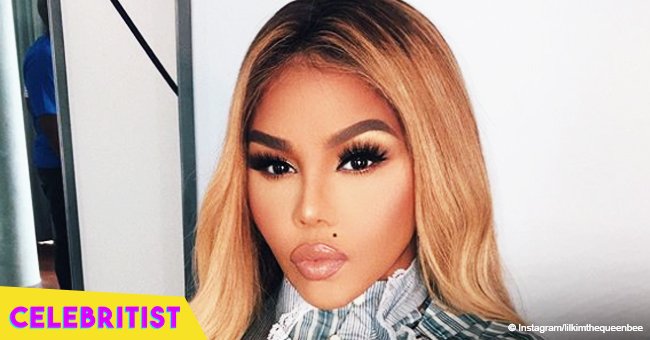 Lil' Kim and her 'mini me' are all smiles in heart-melting video
Lil' Kim's daughter Royal Reign is already a 4-year-old cutie, and just like her rapper mother, the girl already has an outstanding personality, as shown in a recent video shared by Kim on Instagram.
Lil' Kim is the proud mother of an adorable girl from her failed relationship with rapper Mr. Papers, real name Jeremy Neil. The girl, Royal Reign, has been taking social media by storm thanks to her mother's Instagram posts featuring her, and fans can't get over her cuteness.
In one of the recent Instagram clips, the Queen Bee used a cute beauty filter while recording her daughter in a moving car as they hit the road. Royal looked cute in a pink top, and her long braided hair flipped to the side, as she told her mom's followers to "click down below" because her mom is beautiful.
Lil' Kim was pleasantly surprised by her daughter's words, as she returned the compliment stating her baby is also beautiful before throwing a kiss to the camera and asking Royal to do the same. The girl is not shy in front of the lens, and her mom believes she has a future entertainer in her hands.
"On the move with my mini me!! She said "click down below" Do I have a future YouTuber on my hands? @ryansfamilyreview I think I found your partner! #lilkim #royalreign #queenbee #beehive," she captioned the post.
The rapper's followers immediately took over her comment section to share their thoughts on the video. User @melicahmusic wrote:
"Omg, she got big and so gorgeous!! she made my heart full early."
While @nina_kane7 added:
"She is the star we wanna see more of her Absolutely beautiful."
And @jkardash said:
"Yes, Little Miss YouTuber!! I Hear This Too Often At Home! "Hey Guys; Click Below, And Subscribe" Lol."
FANS AND THEIR VICIOUS ATTACKS
While most of Kim's fans and followers are often praising the rapper and her little girl, there's always a few trolls out there ready to make some hateful comments toward the duo, but Lil' Kim is a mama bear, and she will fight back to defend her baby girl.
Just a few months ago, the 44-year-old star shared a series of pics of her daughter to celebrate Mother's Day, and one follower criticized her for posting "blurry" pics of the girl wearing "regular clothes," as contrasted to the rapper's high quality, "Gucci-wearing" photos.
"No offense—but you post photo after photo of yourself from all of these high definition professional photoshoots wearing top of the line fashion," the user wrote, "but when it comes time to make one post about your daughter, the best you can do is post a blurry [expletive] picture where she's wearing some regular crap and barely prepared for the photo?"
Lil' Kim clapped back with a sharp answer, saying: "Sweetie, I'd have u to kno that she's wearing Gucci from head to toe, but I wouldn't expect U! To know that. And if it wasn't Gucci she'd still be cute. [sic]"
"Y r u so pressed? What's in your child's closet? Chile bye!" she ended her rant.
THE BANKRUPTCY SCANDAL
It seems like Lil' Kim is living her best life with her baby girl after filing for bankruptcy earlier this year.
According to reports, the rapper pleaded to a bankruptcy judge to keep her Alpine mansion after the mortgage company revealed she missed a $10,155 payment on June 1 and she had a debt on the estate of $2,040,014.
"I remain committed to saving my home and reorganizing my debts," the Grammy winner said in a statement signed and filed in Newark. "I am aware that if any of the foregoing statements made by me are false, I am subject to punishment," she added.
The rapper has been working hard to pay off her debts, releasing new singles, walking down the runway of the New York Fashion Week, taking special advertisements and even making a special appearance at Christina Aguilera's show at Radio City Music Hall a few days ago.
Please fill in your e-mail so we can share with you our top stories!