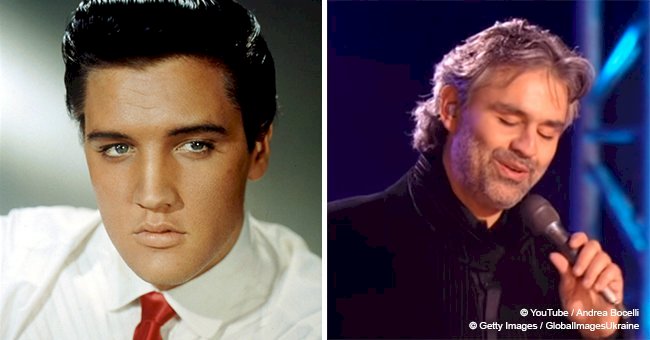 Andrea Bocelli's cover of Elvis Presley's hit just made us tear up
The audience could not help falling in love with Andrea Bocelli's surprising live performance in Las Vegas.
Andrea Bocelli is well known for his classical voice, moving people with his talent since 1992. He recorded 15 solo studio albums of both classical and pop music over the years.
Source: YouTube/Andrea Bocelli
During a performance at Lake Las Vegas Resort in front of a packed outdoor audience, Bocelli shared his rendition of the Elvis Presley song, 'Can't Help Falling In Love.' It stunned the audience as Bocelli went outside his norm of performing classical operatic songs during solo appearances.
Source: YouTube/Andrea Bocelli
Read more on our Twitter account @amomama_usa.
Source: YouTube/Andrea Bocelli
The pianist prompted Bocelli to perform a suitable song for the setting while they engaged in light banter. Bocelli smilingly agreed and leaned into the piano, highlighted cords with a tempo and turned to the expecting crowd.
Source: YouTube/Andrea Bocelli
What followed was a beautiful rendition of the love song favorite by Elvis Presley, 'Can't Help Falling In Love.' The audience was mesmerized as Bocelli delivered a moving performance in style and gave him a standing ovation after the song finished, showing their appreciation for not only his talent but also for experiencing this rare solo performance.
On September 22, the Italian classical singer not only celebrated his 60th birthday but also released a duet with his son Matteo where they performed a special song, 'Fall on Me.' In this first time collaboration, they paid a beautiful tribute to their relationship as father and son as the 21-year-old Matteo started the duet off in English and Andrea soon joined in with the Italian chorus.
Over the years Bocelli had his share of unusual duets, a recent duet being with pop star Ariana Grande as they came together and performed a single from Bocelli's album Cinema, named 'E Piu Ti Penso.' The song is in Italian, however, their voices told the universal story. An unforgettable collaboration between them as their voices flow seamlessly in melancholy and romance, complimenting each other beautifully in this song about love and longing.
Please fill in your e-mail so we can share with you our top stories!