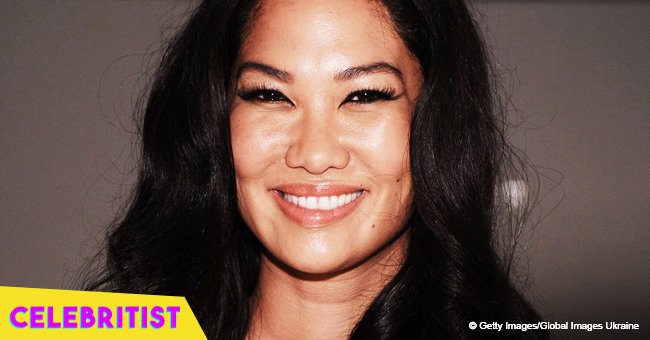 Kimora Lee Simmons & her grown-up daughter look just like sisters in recent photo
Ming Lee Simmons recently took to Instagram to share a beautiful photo alongside her model mom, and they could easily pass as twins. The girl is already following Kimora Lee's steps into the fashion industry, and she recently landed her first cover in a magazine.
Ming Lee has become quite the Instagram star in the last years, and while she mostly posts stylish pictures of herself or artsy shots related to fashion, she recently shared a pic from a day out with her mother, a former model turned designer, Kimora Lee.
In the pic, Ming Lee is rocking a polka-dotted black blouse, jeans, and a red pouch, while Kimora rocked a denim jacket. Ming Lee opted for bold, red lipstick and her mom showed off a more natural makeup as both sat side to side enjoying a mother-daughter brunch.
Fans took over Ming's comment section to share their thoughts on the photo, with most of them agreeing on how much she resembles her mom to the point they could easily pass as twins. One user wrote "your mum literally looks like your sister. Iconic," another added, "U are Kimora junior. Just like your mother," and a third one said "Twins! My goodness, these genes!"
The 18-year-old is on her freshman year in college at NYU, and she recently landed her first ever magazine cover for Galore Magazine. She also attended New York Fashion Week and even met Nicki Minaj at one of the fashion shows.
Talking about this new milestone in her life and career, Ming told Galore:
"My focus has been on enrolling and registering for classes for my freshman year. I'm also currently moving into my first ever apartment. I'm unpacking as we speak. I'm excited about exploring the city on my own terms and at my own pace."
Ming has always been compared to her youngest sister, Aoki Lee, who prefers to keep her life out of the spotlight and is more focused on finishing high school and play for the volleyball team of her school.
The sisters have an incredible and unique bond, and despite their striking differences, they both have a common goal:
"We want to be a force for good in the world. We want to be strong, confident and pursue our abilities," said Ming Lee.
And as a proof of that statement, the girls recently joined their mom at the launch of the new Gender Innovation Principles program from the United Nations of Women at the NASDAQ headquarters in New York. Talking about the event, Ming Lee said it was an honor to have been invited.
Simmons keeps on making strides in her modeling career while trying to keep the balance with her school life, and she told Teen Vogue last year that she'd like to have her own fashion line in the future, just like her mother.
Please fill in your e-mail so we can share with you our top stories!