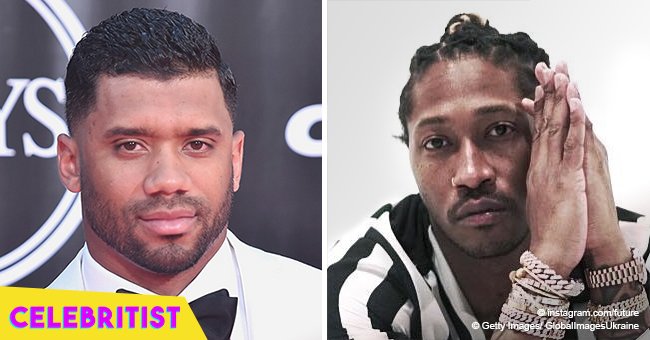 Russell Wilson gets dragged after sharing picture with Ciara and Future's son on 'guys night' out
Russell Wilson loves Ciara's son Future like his own, and up until today, people still seem to have a problem with that fact. After sharing a photo of the two of them enjoying "guys night out", people were quick to leave their comments about the whole ordeal.
As if seeing a stepfather and a stepson bonding with one another isn't normal, fans of Ciara and Future had a lot to say about Russell Wilson spending time with Future Jr.
The two of them recently stepped out to a Golden State Warriors game, something that the young boy clearly loved and enjoyed with his second dad. However, critics were not pleased to see Russell stepping in as a father figure for the child, and it's quite questionable why.
"@prayforiann: @future come get yo kid"
"@marnika_12: Does his biological EVER see him I wonder???"
Of course, thousands of fans outweighed the negative comments that hoped to discredit Russell as one of Future's dads, even if he did raise him and give him everything that the rest of their family has.
"@caramel_beautee: Why are you all so mad that this man is so good with this child? This is awesome! A man treats a child that's not even his like it is. Stop the hate. Keep it up Mr. Wilson!"
"@tristatolls: Mannnnn, I love this man! He's such a MAN!!!"
It's not new that people are hating on Russell as he spends time with Future, as he has been experiencing this for years. While many commend him for treating Future like his own, there are also some who have called him out for proudly sharing Future on his social media accounts while at first, they tried to hide Sienna away from the spotlight.
However, all these comments on how to treat Future or how to deal with Sienna and the spotlight does not bother Russell and Ciara at all, as they are doing perfectly fine as a blended family. In fact, they are so happy with one another that they feel no need to ever explain something to their haters and doubters.
Please fill in your e-mail so we can share with you our top stories!