Chip Gaines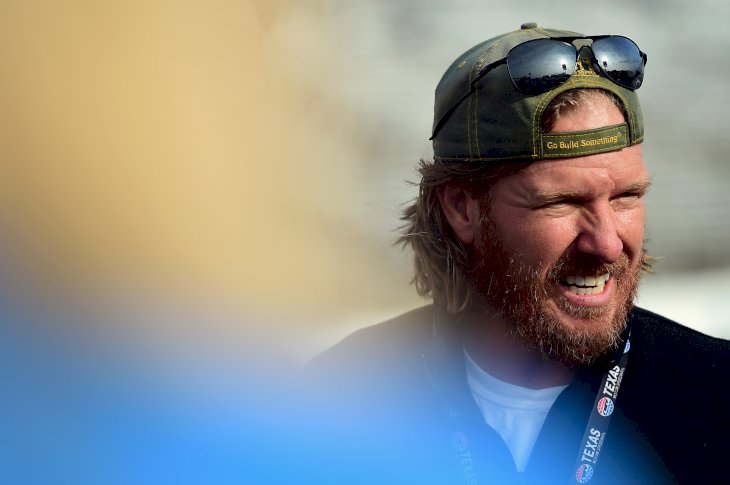 Content
| | |
| --- | --- |
| Full Name: | Chip Gaines |
| Place of Birth: | November 14, 1974 |
| Place Of Birth: | Texas, USA |
| Zodiac Sign: | Scorpio |
| Age: | 43 years old |
| Height: | 1.78 m |
| Professions: | TV personality, businessman |
| Famous For: | Co-hosting "Fixer Upper" |
| Net Worth: | $7.6 Million |
| Spouse: | Joanna Gaines, married 2003 |
| Social Media: | Twitter, Instagram, IMDb |
Who is Chip Gaines?
Chip Gaines is an American television presenter and co-host of "Fixer Upper." Besides his TV fame, Chip Gaines is also a successful businessman, especially in the construction and renovation fields. He is married to Joanna Gaines.
Early life:
Chip was born in Albuquerque, New Mexico on November 14, 1974, to Gayle and Bob Gaines. Raised in Dallas, he was brought up in a Christian family.  
Gaines has a sister and no other siblings. He had a keen interest in business, and in 1995, attended Baylor University - Hankamer School of Business, majoring in marketing. When he graduated in 1998, he felt ready to start his own business.
Career:
A natural entrepreneur, Gaines started not one, but many small businesses, and made each more successful than the one before it. His ventures include Green and Gold Wash and Fold, a fireworks stand, and multiple landscaping companies.
Chip Gaines now manages the construction and realty side of Magnolia, one of the businesses he co-owns with his wife, Joanna. In his 15-year career, he has remodeled hundreds of homes in the Waco area. He lets Joanna focus on the design while he focuses on ways to make her vision materialize.
Not only do Joanna and Chip Gaines co-own the Magnolia companies, but they also co-hosted the show "Fixer Upper." The show opened many doors for them, but by 2018 the couple decided to end the show.
The couple has also written a book together and appeared in numerous TV shows and interviews, both collectively and individually.
Personal life:
Gaines spotted a picture of his now-wife in her dad's shop and began frequently visiting in the hopes of meeting her. In 2001, he finally met her in person.
After the first date, they did not see each other again for about seven months and once they did reconnect, Joanna was a little skeptical of the relationship. Gaines pulled out all the stops and took his time to win her over.
They dated for just over a year before they married on May 31, 2003, at the Earle-Harrison House in Waco. After their wedding, they began their joint career venture and became the dynamic team they are known for today. They have been married for 15 years and have five children together: Drake, Ella, Duke, Emmie, and Crew.
Movies/Series:
"I told myself that I was going to live the rest of my life as if it were Saturday." ~ Chip Gaines
Trivia:
Chip and his wife, Joanna Gaines, do house rehabs in Waco, Texas
A graduate of Baylor University in Waco, Texas
Drives Nascar