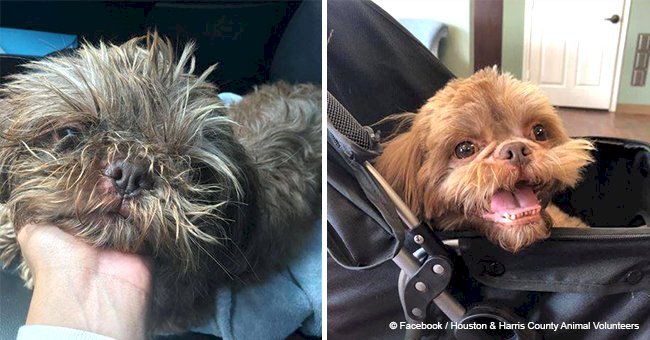 Insensitive guy brought his old but healthy dog to a shelter asking for euthanasia
Man asked that his healthy dog be euthanized just because he is 20-years-old.
Workers at the Harris County Animal Shelter in Texas were horrified by a man's request that his dog be euthanized.
Many dog owners will resort to euthanasia when they see their beloved pets in pain from incurable conditions, but this was not the case.
The shelter reported on its Facebook/Harris County Animal Shelter page that the animal was in perfect health.
"Sometimes animals come in and you're just at a loss for words. This is one of those times. This little Ewok-looking teddy bear is Radar. It's pretty easy to see that Radar is terrified, confused and wondering where anything familiar went."
Harris County Animal Shelter, Facebook, October 2018.
CALLOUS REQUEST FOR A "CONVENIENT" EUTHANASIA
Radar's owner dropped him off at the Harris County Animal Shelter and asked that he be euthanized.
His reason? Radar, although healthy, is now 20 years old, and his owner felt it was time to get rid of the faithful dog.
FRIGHTENED, ALONE AND CONDEMNED TO DIE BY HIS BELOVED OWNER
The staff at the shelter decided not to perform the euthanasia on the ostensibly healthy, and sweet old dog. Instead, they placed a plea on their Facebook page in hopes of finding Radar a new home.
A CUTE LITTLE DOG WITH A LOT OF GOOD YEARS LEFT IN HIM
The staff at the shelter admittedly fell in love with Radar and his sweet disposition, and his looks - described as an Ewok-looking teddy bear - didn't hurt either.
VETS DISCOVERED OWNER'S STORY WAS A LIE
A vet examined Radar and estimated him to be between 12 and 15 - five to eight years younger than the 20 years listed on his shelter intake paperwork by his owner. Radar's fur was matted and his nails overgrown, and he was found to extremely malnourished.
Ragar is now on his way to recovery, and numerous families have already stepped forward to offer the brave little scrap a home.
VET WAS ASKED TO EUTHANIZE A DOG BUT DECIDED TO SAVE HIM
Dr. Eric Setzer, of Lesslie Animal Hospital in Rock Hill, South Carolina, received a call with a request for euthanasia for a 5-year-old dog with a tumor on his face.
But when Deebo was brought in, Dr.Setzer saw that the animal was in a lamentable state. He was emaciated, he had a skin condition and infections in both ears.
The supposed tumor turned out to be perfectly treatable abscesses. Deebo was sick, starved and neglected, but not dying of a tumor as his owner had claimed.
"I gave her a quote for what the treatment would cost, but she said she couldn't afford it, and to still put him to sleep."
Dr. Setzer gave Deebo's owner the news that he was treatable, but the woman told the vet she couldn't afford the treatment and asked that he be put to sleep.
Dr. Setzer had her sign Deebo over to the animal hospital and started treating him.
After 3 weeks Deebo was on his way back to full health, and the Carolina Big Hearts Big Barks Rescue who helped fundraise to pay for Deebo's medical bills is now committed to finding him a new home.
Please fill in your e-mail so we can share with you our top stories!