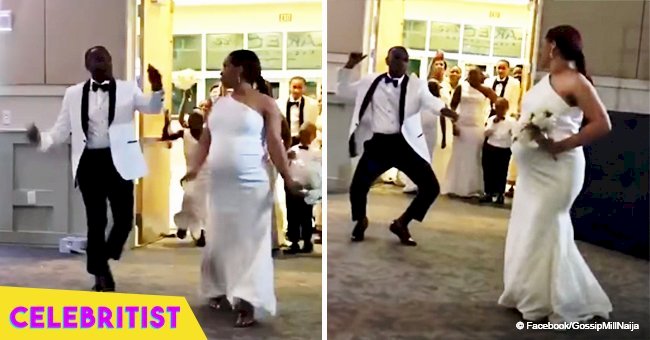 Heavily pregnant bride sets the dance floor on fire with her energetic moves on her wedding day

A heavily pregnant woman, whose name was not revealed, destroyed the dance floor showing off her fantastic moves in front of the shocked guests of her wedding.
In the 45-second clip, that became viral in no time, the bride appeared entering the salon where the wedding reception was taking place next to her husband. The lady was wearing a beautiful sleeveless white dress and was holding the bouquet.
The man opted for black shoes, pants and bow tie, and a white shirt and jacket. The couple entered the room with the brightest smile on their faces, proving just how happy they were about tying the knot.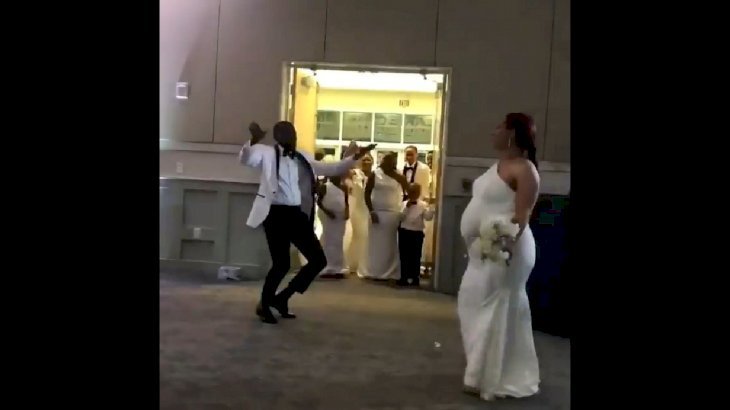 Source: Facebook/Gossip Mill Nigeria
A FANTASTIC FIRST DANCE
During her presentation, the bride crouched down, twerked, and rubbed her belly while dancing to Starrkeisha's song "The Baby Mama Dance."
Her proud husband, who didn't seem to feel a bit nervous about dancing in front of his friends and family members, was always by her side.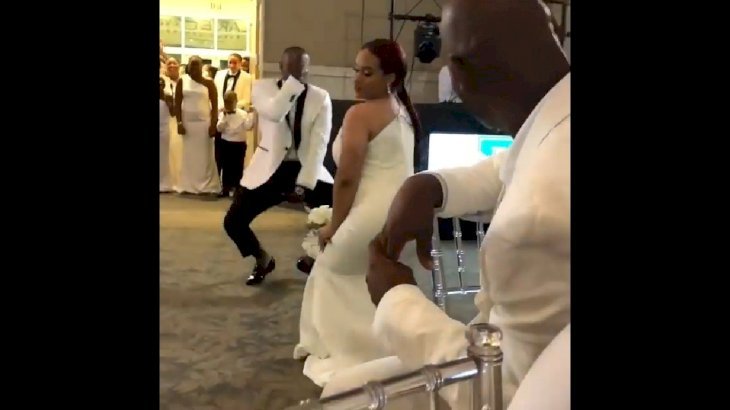 Source: Facebook/Gossip Mill Nigeria
INCLUDING THEIR BABY
All guests never stopped encouraging them. They were all enjoying the routine from their seats, leaving the dance floor for the newlyweds.
One of the most interesting aspects of the whole performance is that the song they chose was perfect as it was like if they included their baby, who was about to be born, in the celebration.
BECOMING VIRAL
Another factor that surprised the people who watched the video, which has almost two million views on Facebook, was that most pregnant women are supposed to rest for as much as possible.
However, the protagonist of that clip chose to do the opposite. She is not the only soon-to-be mother who danced off before giving birth, though.
ALICIA'S DANCE
Alicia Exantus, who was in the maternity ward of the Manatee Memorial Hospital in Florida, broke out into an energetic dance right before getting into the delivery room.
Her husband and a couple of members of the hospital joined her, and the video became viral in no time. She went through 30 hours of labor when her choreography ended.
ALLISON'S DANCE
Allison Sipes was another pregnant woman who considered that resting was not quite her thing, so she recorded herself pole dancing during her third trimester.
She used to compete as a national Olympic gymnast in her early years and has been dance training professionally for a while. Her moves were flawless, proving that the extra weight she carried was not a problem.
Please fill in your e-mail so we can share with you our top stories!