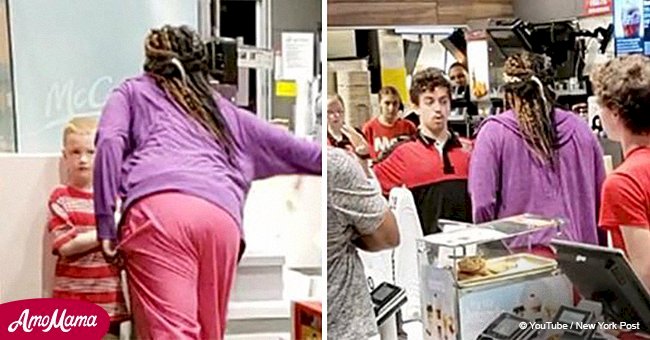 McDonald's worker's mistake caused a furious reaction of woman who began to throw things around
McDonald's in Piedmont, South Carolina recently experienced the rage of a woman when she received the wrong chicken wrap order.
The restaurant is full of customers both young and old, but the woman is unfazed as she verbally explodes towards McDonald's employees.
Source: YouTube/New York Post
In the video, the unnamed woman's outburst escalates, infuriated by receiving a grilled chicken wrap instead of the ordered crispy chicken wrap. She goes in behind the counter screaming and swearing at an employee to fix her food while the male employee does his best to get her back on the customer side of the restaurant.
Read more on our Twitter account @amomama_usa.
Source: YouTube/ New York Post
Although she returns to the customer side her fury rages on as she continues the verbal abuse towards the employees. After being told she would have to wait to get her order remade the woman threw items around the restaurant and screamed with renewed vigor.
One customer approached her in an effort to get her to either leave the restaurant or stop her increasingly violent behavior after scaring younger customers. The woman then turned her attention to the confronting customer screaming and swearing at the customer before leaving the restaurant.
Source: YouTube/New York Post
In a kebab take away shop a woman was recorded being verbally abusive towards employees over green peppers. She made sure the employees understood how she felt about receiving green peppers with the order after insisting she ordered it with red peppers.
She screamed that the customer is always right while slamming her hand on the counter, berating them for not speaking English to each other.
After yelling at the employees to fix the food, they told her it would take about 16 minutes upon which her tantrum escalated, she took the food and stormed towards the door continuing her rant, but does not notice her distance from the door, and walked straight into it while taking a breath in between verbal insults aimed at the employees.
Source: YouTube/Oneeyednewt
Zero tolerance towards any abusive behavior should become the norm, understandably some are hesitant to take on a verbally abusive and enraged person due to what might come their way.
However more people are standing up for the bullied, even in situations like with the enraged woman in McDonald's over a chicken wrap, but at times this bullying takes on a different form, as with Savannah Phillips, from Oklahoma, US, during a flight to Chicago.
Savannah is self-conscious about her weight and as it turns out the passenger next to her, a man described to be in his 60s with yellow sunglasses who claimed to be a comedian had a problem with her weight.
On Facebook Savannah stated:
"As soon as I got buckled, he sat back down...his phone was maybe 12 inches from my face and he proceeded to text someone that he was sitting next to a 'smelly fatty'."
The tears were running down her cheeks in response to this man's abusive behavior but thankfully a fellow passenger intervened and swapped seats with the bully after giving him a piece of his mind. The rest of the flight was uneventful as Savannah and her helper, Chase Irwin kept each other company.
Please fill in your e-mail so we can share with you our top stories!