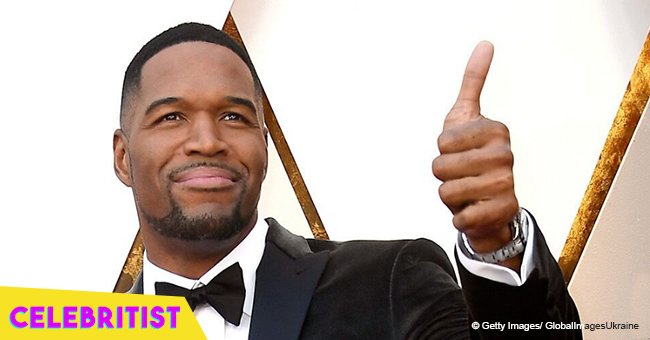 Michael Strahan shares picture with all his kids working out at the gym
Michael Strahan has a blended family, and he is nothing short of proud of all his children. The former football star and TV personality has made sure to share his interesting moments with his kids on Instagram, which includes heading to the gym with all of them.
The "Good Morning America" co-host has four children with two mothers, daughter Tanita, 24, and Michael Jr., 21, whom he shares with ex-wife Wanda Hutchins, and twins Sophie and Isabella, 12, whom he shares with ex-wife Jean Muggli.
According to Strahan who spoke to People about his relationship with his children, it is his kids who give him the strength to wake up in the morning and do what he has to do.
"My kids give me strength. I love being with the kids. To me it's all about family, now more than anything."
Although Michael Jr. and Tanita were raised in different households from Sophia and Isabela, the 44-year-old is proud that all of his children are close to one another.
"You worry how the kids will mix and blend, but brothers and sisters are brothers and sisters regardless of different mothers."
When his first marriage with his first wife ended, Hutchins remained in Germany with their two children while Michael moved back to America. At first, he shared the struggles of having people think that the mother is supposed to take sole responsibility of children after a breakup, but since day one, he has wanted to take an active role in his children's lives.
That then brought him to Germany constantly, making sure he gets to spend time with his children as they grew older.
"I was constantly on planes and phones. And it's very hard – of course it's hard with them being in Germany. But one thing I learned is, you make time for what you want to make time for."
However, Michael Jr. and Tanita ended up heading to Houston to be with their dad for high school, and then eventually college in Texas while Strahan works hard to keep them all afloat.
Meanwhile, his twins are also living a crazy life, splitting their time between North Carolina and North Dakota to be with their parents.
Although they all live in different places, they make it a point to see each other whenever they can. During their school years, he flies wherever they are to be with his children, but during their breaks, they come to New York to spend time with their dad.
Please fill in your e-mail so we can share with you our top stories!