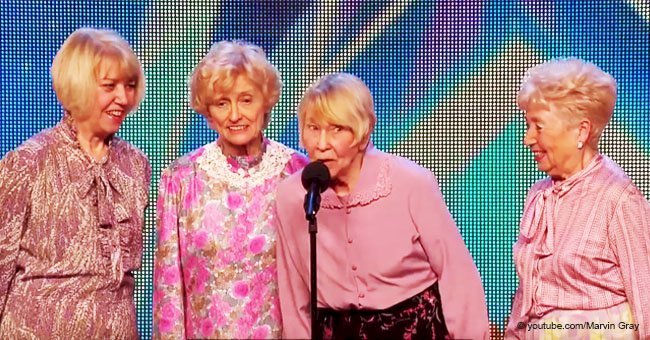 Judges expected nothing from 4 grandmothers, until they took their clothes off

Four elderly ladies conquered British TV making the audience and the judges of "Britain's Got Talent" give them a standing ovation. The video of the performance on YouTube went viral in less than four days.
In May 2015, a dance troupe of four elderly women, known as "The Cocooners" took BGT's stage and delivered a most unusual dance routine that made everybody lucky enough to witness it live to go wild about them, as Metro reported.
Formed by 63-year-old Michelle, 75-year-old Heather, 80-year-old Lynne, and 75-year-old Maxine, "The Cocooners" gave their absolute best to try their luck in the very popular talent competition.
Adding all their ages together, these "Golden Years" women sum 293 years. Nevertheless, their ages are no obstacle for them to keep pursuing their life-long passion for dancing. Read more on our Twitter account @amomama_usa
When the dancers walked in wearing typical "granny" clothes and holding hands, the judges didn't seem very impressed. They never imagined what the amazing show these women were about to put on.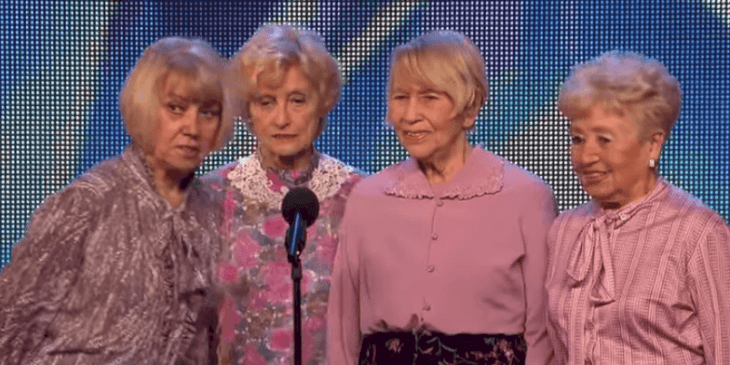 Source: Youtube/Marvin Gray
Then, each of them took their place on their separate square platforms and the music started to play. Along with the first sounds of their chosen track, the ladies acted as a strange force possessed them before undergoing a transformation.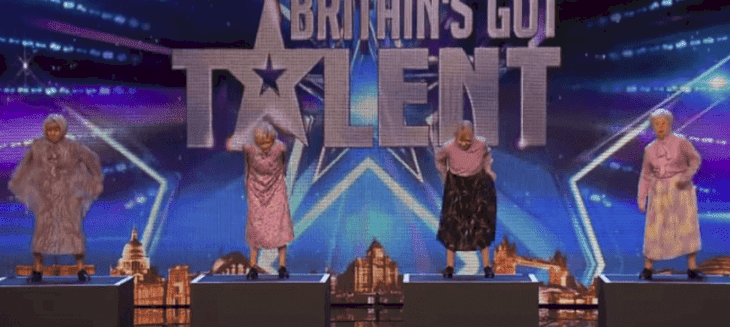 Source: Youtube/Marvin Gray
As the music progressed, the four women ripped their conventional clothes off revealing the futuristic silver suits they were wearing underneath, causing an uproar in the audience and capturing the attention of the judges.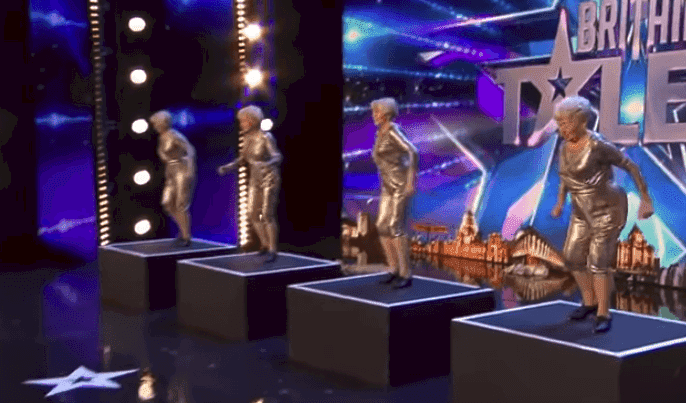 Source: Youtube/Marvin Gray
It was only then when "The Cocooners" showed what they were made of, by giving an incredible performance that mixed tap dancing with dance music. Even the hard to impress Simon Cowell was caught off-guard by these talented women.
The audition was part of the show's ninth season, on which, apart from Cowell, the jury was formed by Amanda Holden, Alisha Dixon, and David Williams.
These amazing ladies definitely had one thing or two to teach all of us about staying active and having fun in one's life, apart from keeping chasing our dreams regardless our age. It is never too late to be yourself.
A year after "The Cocooners" rocked BGT with their age-defying act, a 90-year-old woman took things further in America's Got Talent, also stealing Cowell's heart with her striptease, her amazing outfit and her life's story.
The nonagenarian was determined to live her dream of becoming "a great star," and in the process, she inspired everyone with her youthful spirit and her positive energy.
People like Williams prove that keeping one's dreams alive is one of the secrets to lead a long and joyful life, even if sometimes it takes almost a century to actually making those dreams come true.
Please fill in your e-mail so we can share with you our top stories!