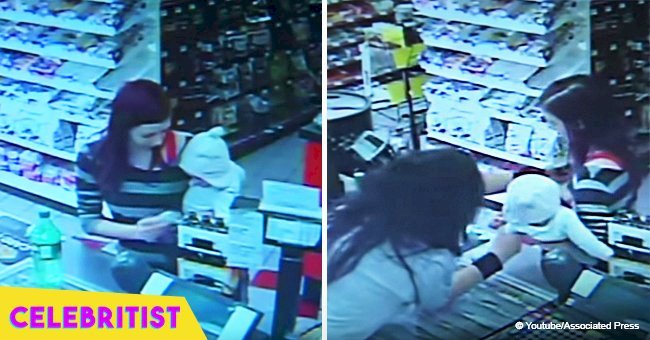 Store clerk rushes to grab baby from mother's arms and security camera footage explains her actions
Rebecca Montano became the hero of the day when her maternal instinct kicked in and she saved a baby girl before her mother collapsed to the floor in the middle of a sudden seizure.
A of the incident, taken from the surveillance cameras of the convenience store where Montano works as a clerk, shows how the young mom approaches the counter to check out a drink while holding her baby in arms.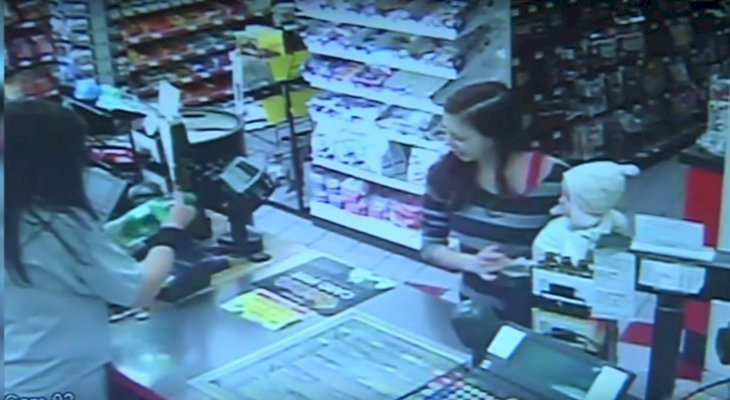 Source: YouTube / Associated Press
Montano then starts talking to the baby, and while the mom seemed to be in good condition, in a few seconds, everything changed. The employee, a mother of five and grandmother of nine, noticed that something was wrong immediately.
According to what she said to 9 News, she was talking to the baby when she noticed the mom's glazed and lost stare. Montano can be seen asking the women if everything was fine, and as the mom starts to sway, Rebecca knew she had to take the baby.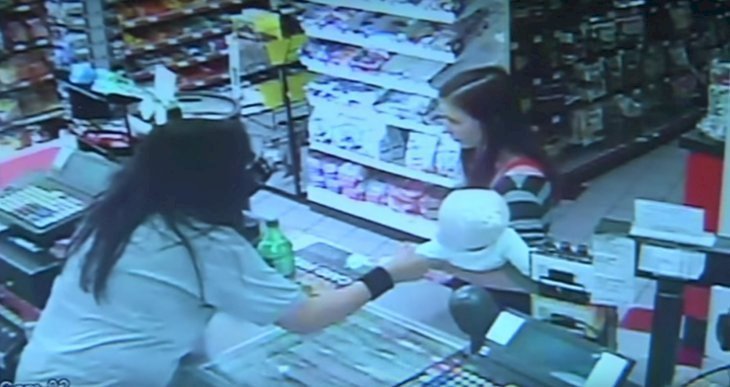 Source: YouTube / Associated Press
She recalled the incident saying:
"I wasn't sure; I felt uneasy about it. I was asking her 'is everything ok,' I grabbed the baby's arm, and she started to sway, she wouldn't answer me. She was just lost in space, so I thought I better take the baby, something doesn't feel right. And then right there she started to fall, and I wasn't sure still exactly what was going on, so I yelled at [a nearby] customer that was in the store [for help]. She fell, I came back, grabbed the phone called 911."
WITHOUT REBECCA'S REACTION, THE BABY WOULD HAVE FELL
As seen on the dramatic footage, Rebecca's action saved the baby girl from suffering any damage. If the woman hadn't reacted so quickly, the baby would have dropped to the floor alongside her mom. But Rebecca doesn't think she's a heroine.
Source: YouTube / Associated Press
"I think being a mother, being a grandmother, my first instinct was the baby," Montano said. "I just wanted to save the baby from getting hurt, if she would've fallen with the baby in her arms, who knows where that baby would've landed?"
According to 9 News, the woman, identified only as Jessica, went back to the store a few days later to personally thank Montano for saving her daughter.
She also revealed to the store clerk that she has been suffering from seizures all her life, and if it wasn't for her, her baby's life could have been compromised.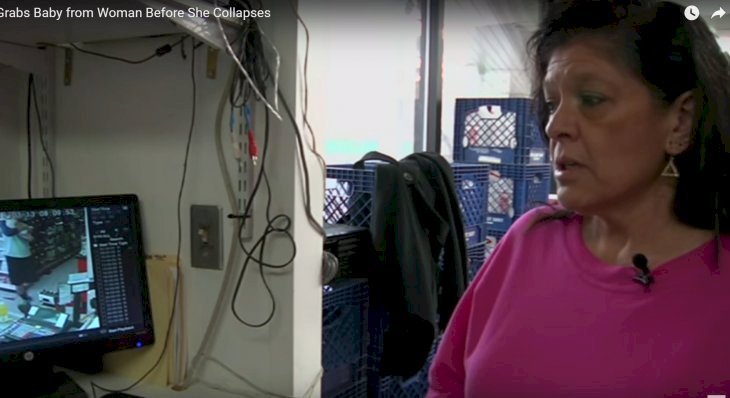 Source: YouTube / Associated Press
WHAT TO DO WHEN A PERSON HAS A SEIZURE?
Cases like this one could happen to anyone, anytime, anywhere, and that's why is important to know what to do to help, it could make the difference between life and death.
According to the CDC, the best way to handle a situation where someone is having a seizure is to slowly lay them down and turn them to their side to help their breathing; put something soft under their heads and clear the area around them from any sharp objects to avoid them getting hurt.
Also, if they wear glasses, removed them. Is suggested to stay with the person until the seizure stops, and then talk to them calmly and comfort them.
If the seizure lasts more than five minutes or is the first time that the person is suffering one, is recommended to call 911. A quick reaction is a key to handling these kinds of situations.
ANOTHER QUICK REACTION SAVES A LIFE
In another fortunate event, a 9-year-old girl with cerebral palsy had a quick reaction when she noticed her baby brother was in danger.
Lexie, who needs a wheelchair just to get around the house and can't properly talk, was watching as her parents prepared everything for her birthday party when her little brother woke up from a nap. Lexie's mother was upstairs and didn't notice that the door to the pool was open.
Even though the siblings were being watched over by their grandma, the woman didn't notice the little boy had walked out until Lexie, aware of the danger, started screaming and pointing at the door.
"All of the sudden, I'm upstairs and I hear her screaming like bloody murder. We've never heard her scream like that," recalled Lexie's mom. Luckily, they went out in time to rescue the little boy from drowning in the pool.
Please fill in your e-mail so we can share with you our top stories!
The information in this article is not intended or implied to be a substitute for professional medical advice, diagnosis or treatment. All content, including text, and images contained on news.AmoMama.com, or available through news.AmoMama.com is for general information purposes only. news.AmoMama.com does not take responsibility for any action taken as a result of reading this article. Before undertaking any course of treatment please consult with your healthcare provider.