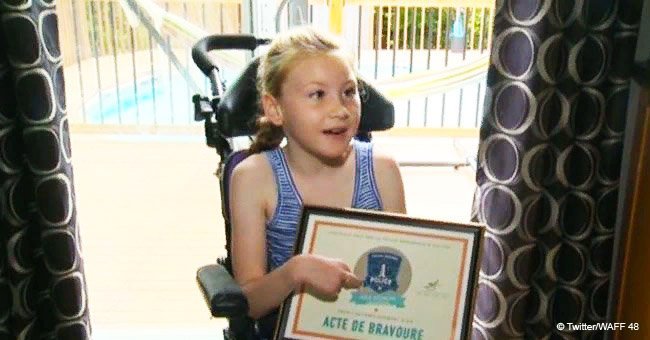 Girl with cerebral palsy who can't walk or talk saves 18-month-old baby brother from drowning

9-year-old Lexie couldn't walk nor talk due to her cerebral palsy, but it did not stop her from saving her 18-month-old brother from drowning in their pool.
Lexie, who lives in Nova Scotia, was recently deemed a hero after she made efforts to save her baby brother, who fell into the pool after he snuck out of their home and into their backyard.
In an interview with CTV Atlantic, Lexie's grandmother, Nancy Comeau-Drisdelle, praised her granddaughter for her heroic act.
She said, "You don't need to be able to walk and talk. You can still make yourself heard and you can still help. And yes, she did save his life."
Follow us on Twitter at AmoMama USA for more stories like this
Comeau-Drisdelle and Kelly Jackson – who is Lexie's mother – were getting ready for Lexie's birthday party at their home in Dartmouth at the time.
Lexie, who needs a wheelchair just to get around the house, was watching them work from their family's kitchen.
Leeland, Lexie's baby brother, had just woken up from his nap as their mother went upstairs to change.
Jackson revealed that her mother brought Leeland downstairs and explained how they forgot that the door was not locked.
Comeau-Drisdelle had just turned around for a couple of seconds when Leeland waked out of the back door.
Lexie was just observing everything and soon realized that her baby brother could be in trouble.
The grandmother shared how Lexie started yelling while pointing at the door. Shortly after, Comeau-Drisdelle realized that her grandson was nowhere to be seen.
"All of the sudden, I'm upstairs and I hear her screaming like bloody murder. We've never heard her scream like that," recalled Jackson.
Comeau-Drisdelle quickly went outside and arrived just in time to take little Leeland out of the pool.
The family said the boy was coughing up some water but ended up to be okay. Although, they still took him to the hospital to be safe.
Two days after the incident, the family got a fence and installed a lock between their home and the pool.
The family expressed how grateful they were of Lexie.
Jackson said, "I hugged her, I cried and I still thank her every day because honestly, in that matter, two seconds makes a huge difference."
After Lexie's bravery spread, she had been the recipient of awards from Halifax Regional Police and her local MLA. She was also honored at Halifax City Hall.
Please fill in your e-mail so we can share with you our top stories!