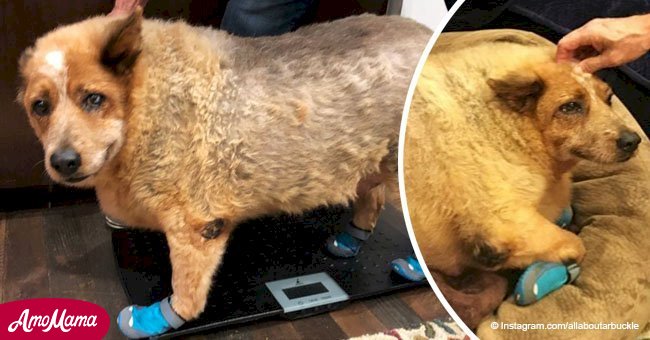 Overweight dog found face-down in a field makes an amazing transformation after rescue
An overweight dog was found face down in a field and couldn't get up by itself. After being rescued by a famous actress, the dog made progress and lost a lot of pounds.
Jane Lynch and her partner, Jennifer Cheyenne, adopted the dog named Arbuckle who was found by The Purposeful Rescue.
Arbuckle is short for Fatty Arbuckle and was named after actor Roscoe Conkling "Fatty" Arbuckle.
Follow us on Twitter at AmoMama USA for more details and updates.
Arbuckle was eight years old then and had been suffering from a hypothyroid condition all his life. His health problem became the reason why he was overweight at 116 lbs.
When the animal rescue organization found him, he was barely able to walk on his own.
Arbuckle was found by Lynch and Cheyenne when the latter was scrolling through her Instagram feed. The moment they saw the dog, they instantly wanted to adopt him.
"He had sores all over his belly — probably from lying on concrete and his belly rubbing on the ground — so he was a mess. They didn't know what kind of an animal he was at first. The Purposeful Rescue people had never seen anything like this before," said Lynch.
As a dog that had been rescued, Arbuckle had no experience with families and didn't know how to interact with humans. In the beginning, he preferred to be left alone.
Cheyenne said, "We know his life was one of complete isolation. It looked like he'd probably been in an enclosure because he tends to want to live in a little 6-by-6 square foot."
The pooch was also not used to interact with other dogs and often didn't know how to respond to them.
Although, through the efforts of the couple, Arbuckle, in time, learned how to respond to humans and his fellow dogs. He was also able to lose the excess weight. Arbuckle was becoming healthier.
"He doesn't look like a strange creature anymore; he is being set free. It's got to feel good for him," said the couple.
With exercise and with the love and affection given to him by Cheyenne and Lynch, Arbuckle was able to shed off 30 lbs. He has become more active as well as he also receives medication for hyperthyroidism.
Speaking about adopting Arbuckle, Lynch shared, "We have this thing about us where we love a project. We have the commitment, and the passion for helping these animals and [Arbuckle] was a big project. It wasn't like I didn't expect that I would fall in love with him. I knew I would, but I didn't know what a kind and gentle spirit he was, and unconditionally loving."
Meanwhile, another couple saw on social media that a chocolate Labrador was up for adoption and thought it was a good idea to have another one since their previous family pet, which was also a Lab, passed away.
They saw in the ad that the dog was said to be "a tad overweight," but when they saw him, he was actually twice than the weight he was supposed to be in.
The family still adopted the dog and made him go through a weight-loss journey. It took the dog ten whole months to lose the weight and become a much healthier and happier pooch.
Please fill in your e-mail so we can share with you our top stories!