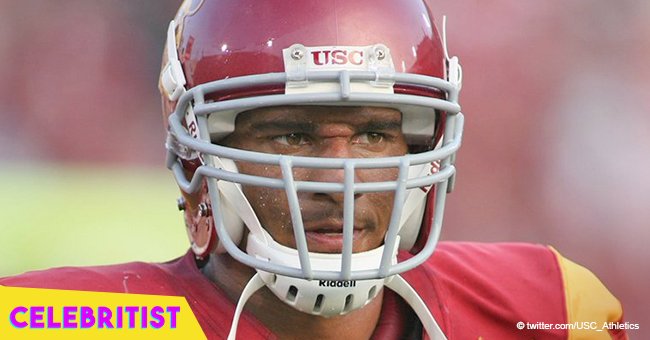 Former USC football captain dies while walking 'back and forth' on a freeway

A 31-year old USC football captain was walking on a freeway when he was hit by a car and died. His family revealed he suffered from mental issues in the past.
Former USC football captain Kevin Ellison has tragically died at the age of 31. He was reportedly walking along a highway when he was fatally hit by a car.
Kevin, an Inglewood native, died while reportedly walking back and forth along the 5 Freeway in the San Fernando Valley. His brother, Chris Ellison said he seemed disoriented and lost as he was trying to get home to his family.
Since news of his passing, Kevin's school posted the hashtag "#FightOnForever" to commemorate his death. His brother described him as well-liked with a smile and personality that "would light up a room." Chris also revealed Kevin had been suffering mental issues in the past years and his family tried to help him overcome it.
In 2012, Kevin was charged with arson after he lit his bed on fire at the Big Trout Lodge in Liberty Lake. According to police records, Kevin claimed it was God who asked him to light his bed on fire. The incident resulted in $50,000 worth of damage. Kevin was ordered by the court to pay $80,000 in retribution after his case was dismissed.
After Kevin's death, his family offered to donate his brain to science in order to find a link between repeated head trauma in athletes to mental issues. His family believes this could also provide answers to Kevin's mental condition at the time of his death. Kevin's brain will be donated to Boston University researchers.
Kevin played for the Trojans from 2005 to 2008 before he was drafted by the San Diego Chargers in 2009. After playing nine games with the team, he moved on to play for the Seattle Seahawks during the off-season in 2010.
News of Kevin's death comes in the heels of another football player who died after collapsing at home. Former Clemson running back CJ Fuller was recovering from a surgery to repair his broken ACL when he mysteriously passed out and died. An autopsy is currently being conducted to determine his cause of death. He was only 22.
Meanwhile, the first ever black American man to be drafted in the NFL just passed away at the age of 91. George Taliaferro died on Monday with an impressive career playing seven different positions. Taliaferro was first drafted by the Chicago Bears but eventually played for the Los Angeles Dons, the New York Yankees, the Dallas Texans, the Baltimore Colts and the Philadelphia Eagles. He was inducted to the College Hall of Fame in 1981.
Please fill in your e-mail so we can share with you our top stories!