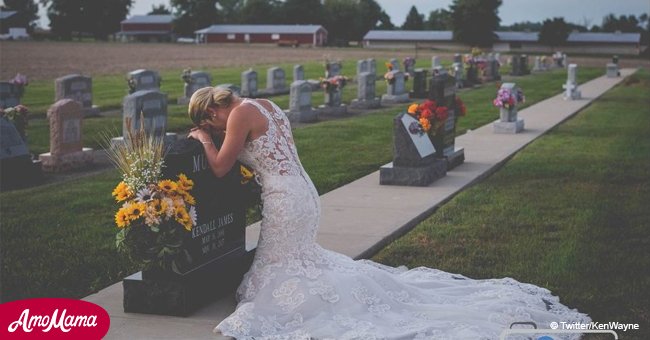 Fiancée takes wedding photos alone at cemetery on the day she planned to marry her husband
In 2016, Jessica Padgett got engaged to Kendall Murphy. They decided that their wedding day would be on September 29, 2018.
However, tragedy struck last year on November 10, as Murphy was suddenly killed. That didn't stop the bride-to-be to hold a special ceremony on the day of their wedding.
On the day Kendall Murphy, 27, died he and his fiancée Jessica Padgett, 25, spent their evening "making supper and watching movies" at his home. Then the bride-to-be left to go make a dessert for her family's Thanksgiving gathering.
She texted Murphy when she made it home safely. Later, he texted asking her how her baking was going which she replied to but Murphy never texted back.
For more on this story go to our Twitter account @amomama_usa. Padgett shared:
"I remember that day like it was yesterday."
She didn't think anything was wrong with him not replying since she'd just seen him a few hours back. However, later in the night, she received news that changed her life.
Padgett said:
"I heard my mom bawling and my dad saying 'Kendall didn't make it.'"
Murphy, a volunteer firefighter, was helping a car accident victim in southwest Indiana in November last year when another firefighter, who was allegedly under the influence, ran him over.
In shock, she fell out of her bed and became completely numb from head to toe. Before his death, Padgett, her mother and her future mother-in-law had gone dress shopping.
Her parents paid for the dress which was scheduled to be ready in February. Padgett said:
"I've been dreading that day since his passing. We had the date planned for almost two years. [It] was supposed to be the best day, but turned out to be the worst day."
She decided to honor him on the day of their wedding by wearing the wedding dress and having a photo shoot with their wedding photographer Mandi Knepp. Her family members arrived in Glendale with her.
This was where she and Murphy had their engagement photos taken. Murphy's groomsmen, family and her entire bridal party were present for the occasion.
His parents surprised her with his cowboy boots which he wore every day. A plaque was attached to the boots and it read: "Whatever path you take I will always be with you, your guardian angel Kendall."
Padgett posed with Murphy's firefighter uniform and afterwards, the group drove to Providence Church, where the late firefighter was buried to take more photos by his grave. She confessed:
"I was a complete mess, emotions going everywhere. A lot of tears were shed."
Recently she honored her late fiancé by organizing a 5K event in June where half the proceeds were donated to the volunteer fire department. The other portion went to a scholarship fund under Murphy's name for incoming kindergarten students at Barr-Reeve School, where he went as a child.
The town also honored Murphy at the Montgomery Volunteer Fire Department. On Sunday, Murphy and four other firefighters were honored at the National Fallen Firefighters Memorial Service in Washington DC.
In 2017, Ashley Grant-Smith, 27, died after a two-year battle with a rare blood cancer just a day before his wedding. The couple had already gotten their wedding rings but the late Grant-Smith surprised his fiancée, Danielle Cumberworth, two months later with a bespoke engagement ring.
She shared:
"It was a total surprise. I didn't cry, I laughed. He had not told me about it at all. It is a beautiful diamond ring in white gold."
Please fill in your e-mail so we can share with you our top stories!