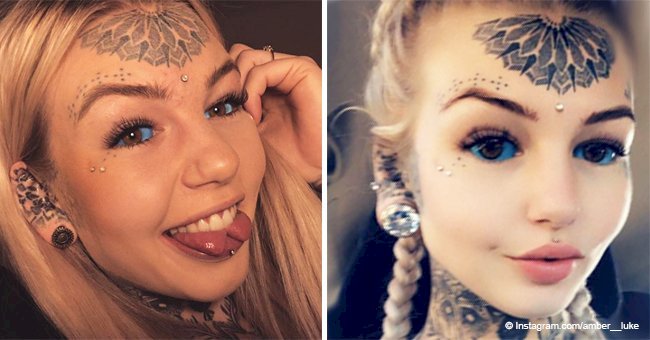 Woman transforms herself into a 'dragon' with tattoos on eyeballs that could blind her

What makes a young woman risk her health and her sight to look like a mystical creature?
Amber Luke has spent what most people would consider a small fortune - $10,000 - to make herself look inhuman, reported Daily Mail on June 7, 2018.
Luke, a professional body piercer from New South Wales, Australia, has transformed her body into what she considers living art.
The 23-year-old, who has been dubbed the 'Blue Eyes White Dragon,' has had radical body altering procedures to make herself look reptilian.
"I got the name "Blue Eyed White Dragon" from my friends, they call me that because I resemble a dragon with my eyes and tongue."
IT ALL STARTED WHEN SHE WAS JUST 16-YEARS-OLD
Luke's metamorphosis started 7 years ago when she was just 16 and got her first tattoo.
Fast forward to 2018, and Luke has over 50 tattoos all over her body, including one incredible inking that could have cost her her vision.
TATTOOING HER EYEBALLS
Luke had the whites of her eyes tattooed in a rare radical procedure called scleral tattooing. This is the process whereby the white part of the human eye is tinted with dye injected between the two layers of the eye, where it spreads out over a large area.
RISKING BLINDNESS FOR HER IMAGE
Scleral tattooing has been known to cause loss of vision, severe permanent pain, and can even result in the loss of an eye. Since scleral tattooing is still a new body modification, the potential long-term effects of the procedure are still unknown.
A SERPENT'S FORKED TONGUE
Luke also had her tongue split in order to more closely resemble a dragon. Tongue bifurcation is a surgical procedure in which the tongue is from its tip to the underside base, creating a forked end. Again, it is a painful procedure with potentially dangerous outcomes such as severe bleeding, infection, inflammation, and lingual nerve damage
ADDICTED TO BODY ALTERATION
Luke has admitted that she is addicted to tattooing and body modification, and has no regrets about any of the procedures she has undergone to achieve her dream.
Luke has confessed that she loves her exotic image and that when she sees old photos of herself, she finds herself "boring"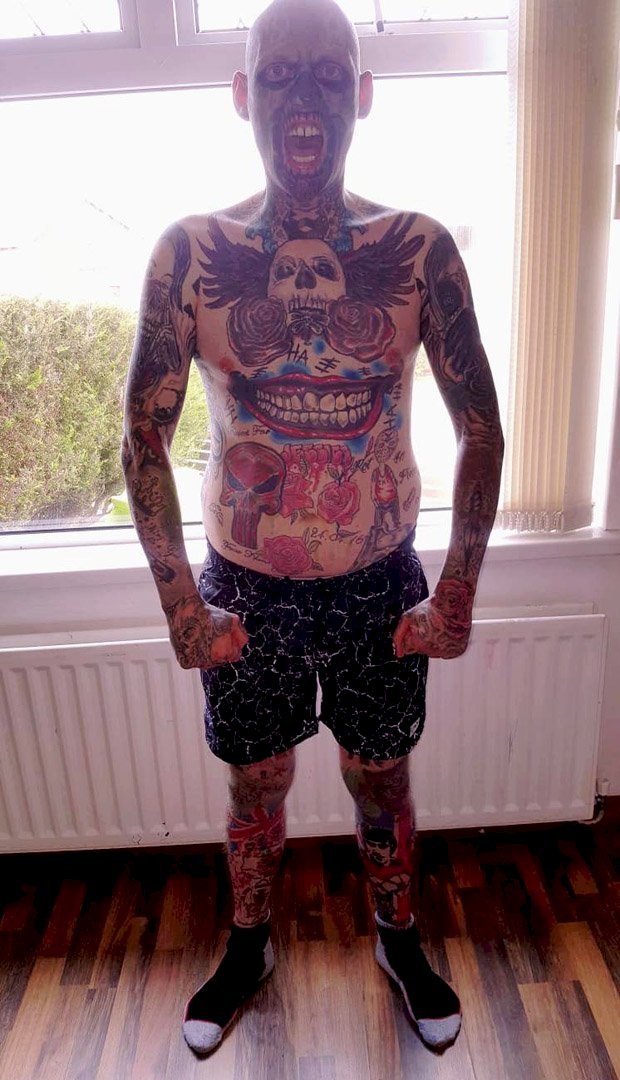 Source: Daily Mail
A MAN WHO TOOK IT EVEN FURTHER
Whereas Luke tattoos her whole body except her remarkably pretty face, one 33-year-old father is turning himself into a skeleton with tattoos.
Chris Dalzell has spent £28,000 - approximately $37,000 - covering his entire body with tattoos.
Like Luke, Dalzell got his first tattoo at 16 but now boasts an almost full body coverage. He has had 600 tattoos on his body - including his eyelids - and hasn't stopped yet, with his penis being next on the list of must-do tattoos.
Dalzell, a chef, from County Down, Northern Ireland, has inked his whole face and reveals that he will have his ink removed if his two young children find it disturbing.
Please fill in your e-mail so we can share with you our top stories!