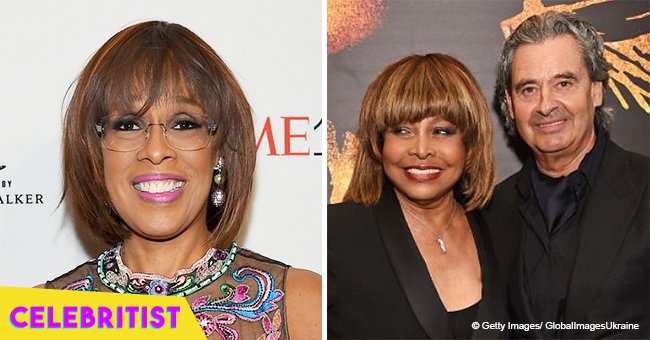 Gayle King is all smiles in recent picture with Tina Turner and her husband Erwin
Gayle King shares a photo of her interviewing Tina Turner and her husband Erwin, just a few days after news of the singer's autobiography hit the internet.
In a series of Instagram photos set in Switzerland, Gayle's caption hinted that she "bumped into" Tina Turner and her husband Erwin, while the photos say otherwise. In the scene, "Good Morning America" crew was all set up in a simple living room, where Gayle sat to interview the lovely couple.
As for what they spoke about, her caption also hinted that they spoke about "true love", something that Tina is happy to be experiencing with her husband.
It wasn't always good times for Tina, who revealed in her own autobiography that she was physically, mentally, and verbally abused by her ex-husband and business partner Ike Turner.
According to Tina, she met Ike when she was just a teenager, and she ended up joining his band. When she did, they got into a romantic relationship and she gave birth to their first son. Despite her pregnancy, Ike used her as a "money-maker", given that she once raked in $25000 for him. When she refused to do what he'd say, he would physically abuse her just to show her "who was boss".
However, there was a time when she really had enough, and so she ran away with just a few coins in her pocket and a gasoline station card. Since then, she worked to rebuild herself from the ground up, making use of her talent to get her back on her feet.
Eventually, she was able to divorce Ike with just two Jaguar cars and her trademarked "Tina Turner" name to herself, but this was more than enough for her. All she wanted was to live an abuse-free life, and she has been living that up until today.
Now, she is happily married to Erwin Bach, whom she married in 2013.
Please fill in your e-mail so we can share with you our top stories!