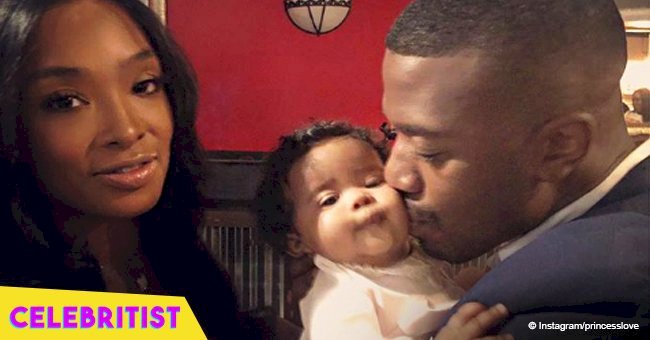 Ray J and Princess Love's baby daughter Melody makes her first TV appearance on 'The Real'

Princess Love and Ray J went to the TV show "The Real" to promote their upcoming reality series. The highlight of the segment was their daughter, Melody.
When the segment started, Princess sat down next to her husband while holding Melody on her lap. As soon as the hosts, Tamera Mowry, Loni Love, Jeannie Mai, and Adrienne Houghton, looked at the baby, they couldn't stop gushing about her.
Loni made sure to say that it was Melody's first time on a daytime TV show, what caused the audience to cheer. The baby was so captivating that everybody was talking to her even when Adrienne tried to interview Princess about her future in "Love & Hip-Hop: Hollywood."
PROMOTING THEIR NEW SPECIAL
Princess and Ray were on the show to promote and discuss "Labor of Love," a new special which will soon air weekly. Apart from that, Princess set clear that she would like to have their own show.
As Celebrity Insider revealed, "Labor of Love" will be focused on Princess' pregnancy. While it is just a special that is not expected to have a sequel, it might be their opportunity to get their own show.
SHARING PHOTOS OF THE BABY
Ever since Melody was born, May 23, 2018, both Princess and Ray have been sharing different adorable photos of the family doing different activities.
CHANGING IN MORE THAN A WAY
One of the things that Ray said about Melody was that she inspired him as an artist to think and reconsider the lyrics of the songs he had written.
The reality star, who is also a talented musician, set clear that he had to go back to the drawing board to listen to all the "crazy, nasty" songs he had done to "clean" them up.
POINTING OUT THE DIFFICULTY
"Sometimes, as an artist, it's tough 'cause you wanna continue your creative flow, and sometimes when you write, and you take yourself out of the character, and now you're someone else [sic]," pointed out Ray J.
The singer added that when he listened to some of those songs, he realized that they didn't represent what he wanted and who he was at the moment, so a change was mandatory.
EXPLAINING HIS KIND OF MUSIC
"I've been doing a bunch of positive, 80's kinda music, and it all centers back around to my daughter and the wife," admitted Ray.
BONDING TIME
Ever since they welcomed Melody to their family, Princess and Ray have gained more publicity through magazine features, being guests in shows, and even having their own special.
Last month, Princess took to Instagram to share a short video showing Ray J talking on the phone while holding Melody on his lap. The man was gently running his hand through the baby's har in what was labeled as a beautiful father-and-daughter bonding time.
Please fill in your e-mail so we can share with you our top stories!