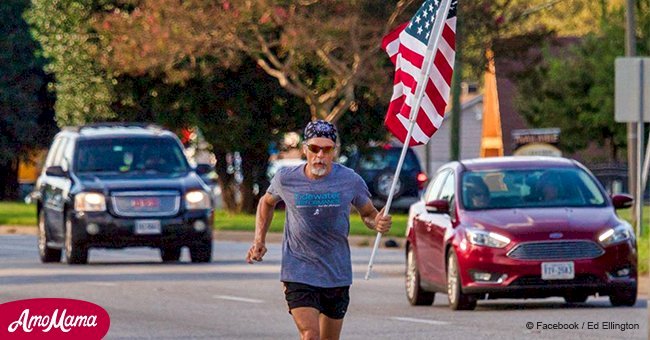 Man runs miles with American flag to honor his son, and his patriotic explanation is praised
Wayne Parfitt loves to run and used that to pay tribute to his son, and the loved ones of others also proudly serving their country.
In June this 53-year-old Newport News, Virginia resident honored his 22-year-old son, Joe, currently deployed overseas with the U.S. Army. He took to the streets a few times a week running with an American flag, sometimes six miles or more. But on July 4 he went for a symbolic run of 17.76 miles while also celebrating his son's birthday.
Not surprisingly Parfitt got noticed by drivers and others while running with the flag in hand prompting many responses, some gave him the 'thumbs up' while others honked their horns, some even stopped to salute the flag.
Read more on our Twitter account @amomama_usa.
Wayne Parfitt said:
"It is important to me because it changes the focus of my time. Not just a training run, but time to reflect, be proud and grateful for all our military. I also feel that many times we drive by a flag, perhaps outside a building or ballpark, never giving it a thought. To see someone running, alone, with the flag, gets it noticed."
Parfitt says he has been running for many years, and even though he is currently training for a marathon, he felt it in his heart to run with the flag to honor his son and all the other deployed as well, but also because he loves his country. He declined to mention where his son is deployed due to security concerns but added that his favorite part of running with the flag was holding it up 'high and proud.'
Wayne Parfitt would have made 5-year-old Kinsley Weaver's day had she seen him running with the American Flag. This little girl from Raleigh, North Carolina is always looking out for their national flag no matter where they go, and when she sees one she honors it saying:
"I pledge allegiance to the flag of the United States of America..."
Kinsley's parents proudly said they taught the children respect for the flag at pre-school and Kinsley honors the flag every time she sees one, not just on Memorial Day.
Source: Wikimedia
An 11-year-old boy caught the attention of many with his unwavering patriotism as he stood on the beach with the American flag flapping in the wind in remembrance and honor of the infantry soldiers who bravely faced their destiny back on June 6, 1944, during WWII, He stood in salute for over an hour and a half in silent reverie occasionally breaking the salute to wipe away some tears.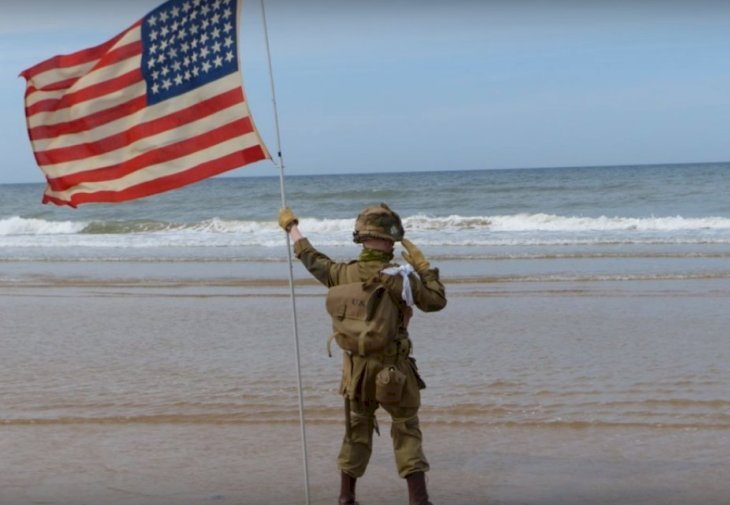 Source: YouTube/ Project Vigil
Please fill in your e-mail so we can share with you our top stories!