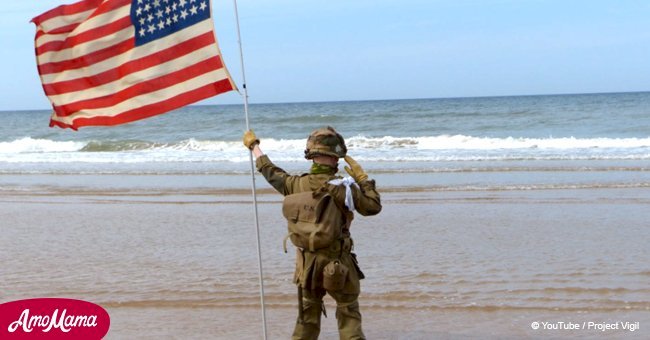 Little boy was standing for about 1.5 hours saluting the flag in honor of late fighters
The 11-year-old boy went to an American Cemetary for the 70th anniversary of D-Day. When he was refused, he took to Omaha Beach and stood in the sand.
The boy held the American flag in his left and used his right hand to salute American soldiers who had passed 70 years before in a battle against fascism and evil. The video is found below.
As he stood there in Normandy, France, he eventually pulled a crowd of persons who wanted to know more about his project which he called "Project Vigil."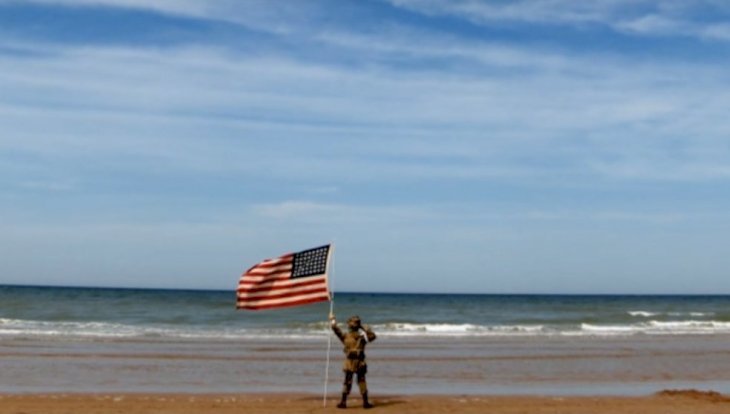 Source: YouTube/ Project Vigil
But for that hour and a half on June 6, 2014, he simply stood there in silent tribute.
His feet were slightly parted so as to ensure stability. He wore a WWII-style uniform and held steady.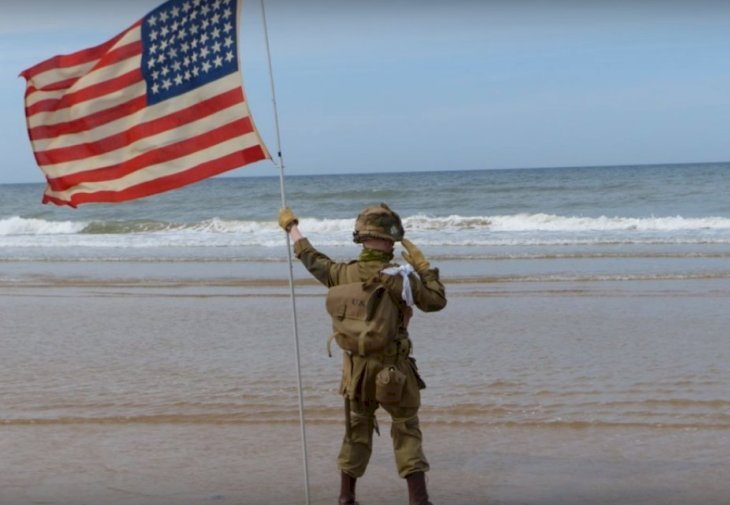 Source: YouTube/ Project Vigil
The young boy was moved to tears upon recollection of the infantry soldiers who bravely faced their destiny back on June 6, 1944. He broke his salute momentarily to wipe away tears from his eyes.
He didn't budge, however, when other kids tried to distract him, or when tourists stood around him to take pictures.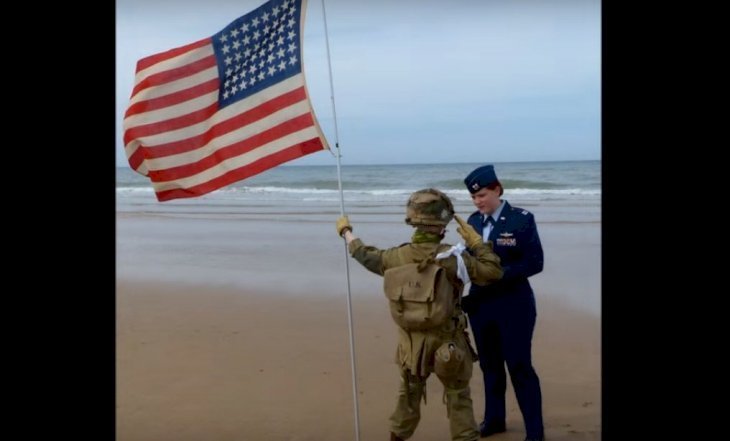 Source: YouTube/ Project Vigil
He himself received honor when veterans saluted him, and well-wishers praised his undeniably strong patriotism.
The boy kept up his stamina even as a news channel recorded him for a broadcast and as the tide came in.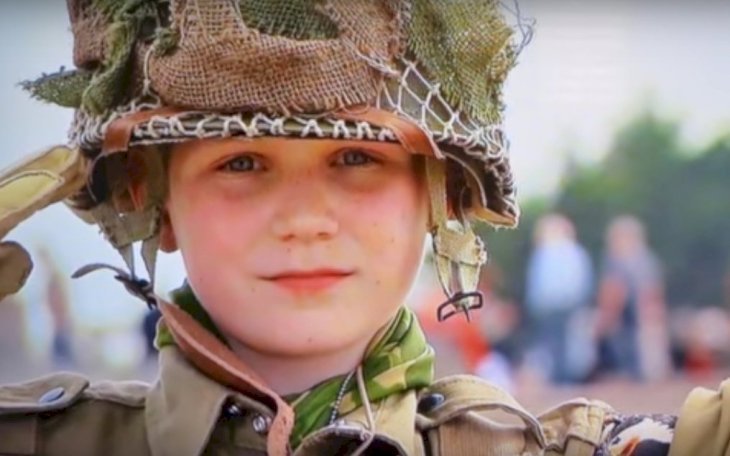 Source: YouTube/ Project Vigil
Then, one person joined him in a more meaningful way. A lone trumpeter took up the vigil and played a piece in remembrance of the fallen soldiers.
Finally, when his body was weary and his muscles could no longer hold, he raised his right hand to signal that it was time to leave.
Source: YouTube/ Project Vigil
The video has garnered over seven million views since its upload and continues to move those who watch it and remember the paratroopers.
Just last month, another extraordinary kid paid her respects to the nation when she performed an amazing rendition of "The Star-Spangled Banner" at the L.A. Galaxy and Seattle Sounders game.
Malea Emma Tjandrawidjaja, seven, was given the privilege of performing after winning a social media contest named the "GalaxySocial national anthem contest.
Source: YouTube/ ET Canada
Tjandrawidjaja shocked the crowd with her powerful vocals that she had been preparing since she was only one.
And back in October 2017, a young girl named Darci Lynne was given the honor of singing the anthem in Oklahoma.
The 13-year-old is best known for winning "America's Got Talent's" 12th season for her incredible ventriloquist act.
This time she sang sans puppet and wowed the crowd at Taft Stadium in Oklahoma City before the OKC Energy FC soccer game.
Please fill in your e-mail so we can share with you our top stories!