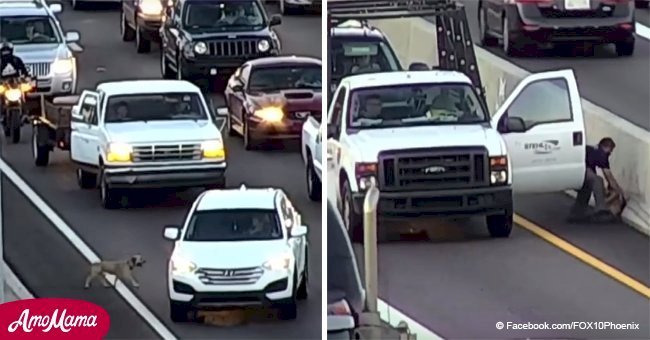 Dog brings traffic to a halt running on busy highway until one driver performs a risky feat
It's Monday night rush hour traffic on the I-17 in Phoenix, Arizona and people are making their way home, but vehicles are not the only ones on the road, Harley also made his way onto the freeway.
Harley is a three-year-old beagle/chow mix dog and found a way out of his backyard which is a block away from the I-17 Frontage Road, after following this road he made his way onto the freeway where he had a couple of close calls while running along peak traffic.
Source: Facebook/ Fox10Phoenix
He kept on running in the same direction as the traffic and made his way onto the shoulder of the road, stopping at times to catch his breath.
Read more on our Twitter account @amomama_usa.
Source: Facebook/ Fox10Phoenix
After running around on the freeway for about 20 minutes a man finally stopped and picked up Harley. He has an ID tag so his owner was easy to find, and got dropped home by a DPS trooper much to the relief of his owner Maddie Justus. She had adopted Harley from a shelter a few months prior and went looking for him after noticing he was gone and said after the ordeal:
"It was a lot of anxiety for both of us, especially him. I couldn't imagine how he felt out there, especially because he's afraid of cars and afraid of people. I was really afraid for him."
Source: Facebook/ Fox10Phoenix
Justus continues while keeping Harley close to her:
"Our gate doesn't close all the way. I put a trash can in front of it so he wouldn't slip out, and he still slipped out. I drove by a couple neighbors, and they told me they saw him run full speed toward the Frontage Road, so I went on there and heard a bunch of honking."
Harley was not harmed during his excursion and didn't cause any accidents or injuries while running around the freeway. Once home all Harley wanted to do is cuddle, safe and sound.
When natural disasters strike people can often get themselves to safety, however animals at shelters cannot. In the hours leading up to Hurricane Harvey last year a 22-year-old student, Connor woke up the morning to his mother's frantic attempts to get dogs rescued before the hurricane hit.
His mother is a volunteer for Lucky Lab Rescue and Adoption and told Connor about two dogs, Thelma and Hercules at a Corpus Christi foster home that needed to be evacuated. Connor didn't give it a second thought as he decided to go rescue the dogs himself.
He hopped into his truck and drove towards the Hurricane intent on saving them. After a long and satisfying day, he got all the dogs delivered to their new foster homes safely out of the path of the hurricane.
Source: TheDodo.com
During the aftermath of Hurricane Florence PETA workers and volunteers worked tirelessly to save stranded pets left behind by their owners, trying to find a place to stay dry and safe. Often scared and traumatized when found the animals, however, don't neglect to show their relief and gratitude at being rescued with heartwarming reactions as seen below.
Please fill in your e-mail so we can share with you our top stories!