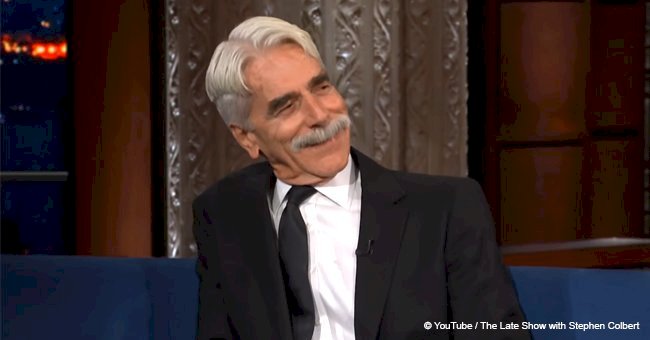 Sam Elliott dramatically reads Lady Gaga lyrics with his iconic voice and it's amazing
Sam Elliott sent women swooning as he read out some lyrics to Lady Gaga's hit songs.
The iconic actor, known for his deep voice, dramatically read out the lyrics during his guest appearance on "The Late Show with Stephen Colbert."
"Would you be willing to give Lady Gaga lyrics the Sam Elliott treatment? Just open up the taps and let the smooth come out," Colbert said during the interview. Ladies in the audience screamed in excitement.
Follow us on our Twitter account, @amomama_usa, to learn more and scroll down to watch the video below.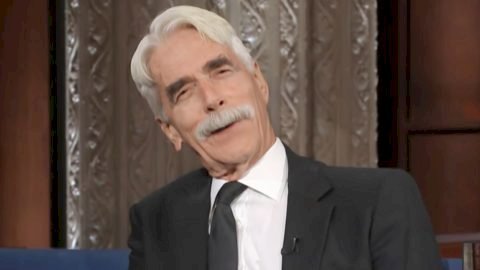 Source: YouTube/The Late Show with Stephen Colbert
The "Road House" actor then tilted his head and began speaking the lyrics from the pop star's hit songs, "Born This Way", "Poker Face," and "Bad Romance."
"Don't be a drag, just be a queen, whether you're broke or evergreen," he said in his signature southern drawl and low baritone voice. The line is from "Born This Way."
He then followed it up with the lyrics, "I won't tell you that I love you, kiss or hug you, 'cause I'm bluffin' with my muffin."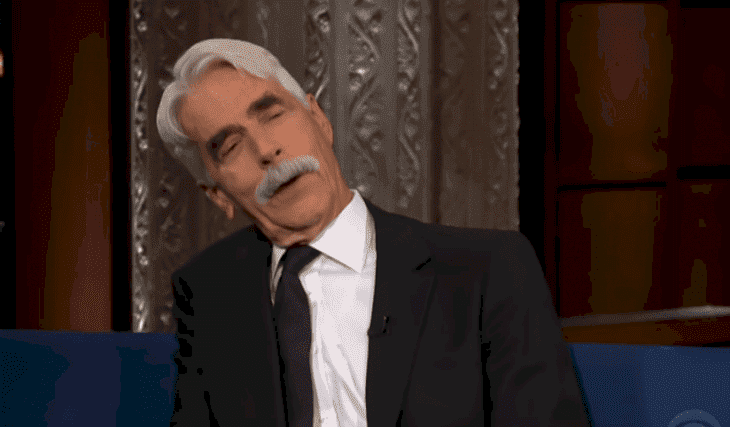 Source: YouTube/The Late Show with Stephen Colbert
TAKING ON BAD ROMANCE LYRICS
As he anticipated the next lyrics he had to read, Elliott could not help but break into a chuckle.
"Bring it home!" Colbert told him, giving the actor a boost of confidence.
Elliot then went for it. "Rah rah, ah ah ah. Ro ma, ro ma ma, Gaga, oh lala," he said with a cheeky eyebrow raise.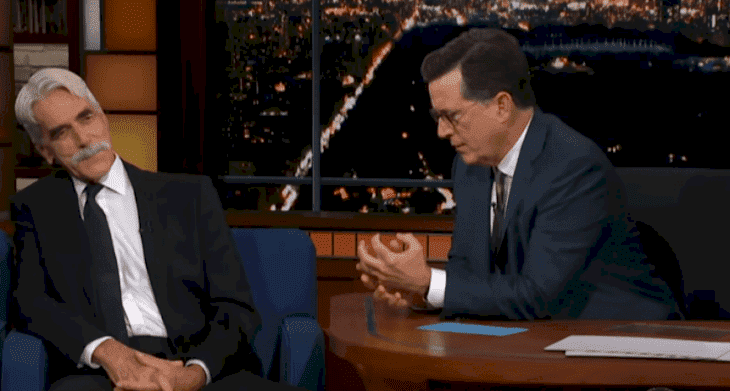 Source: YouTube/The Late Show with Stephen Colbert
Elliott, 74, has been traveling the country on a press tour to promote the latest remake of the classic film "A Star Is Born," where he co-stars with Lady Gaga and Bradley Cooper.
He plays Bobby, the brother and manager of Bradley Cooper's Jack. In the film, Jack, a seasoned musician, discovers and falls in love with Ally, a struggling musician played by Lady Gaga.
The film, which opened on October 5, has received positive reviews. It was also expected to get Oscar nominations.
During his interview with Colbert, Elliott talked about a few of his well-known voice roles, including Smokey the Bear, and commercials for US Beef, Dodge Ram Trucks, and Coors beer.
The famous Hollywood actor recently opened up about his love life, saying it can top any scripted Hollywood romance on any given day.
Elliot has been married to actress Katherine Ross for more than three decades. They met each other for the first time on the set of "Butch Cassidy and the Sundance Kid."
Please fill in your e-mail so we can share with you our top stories!