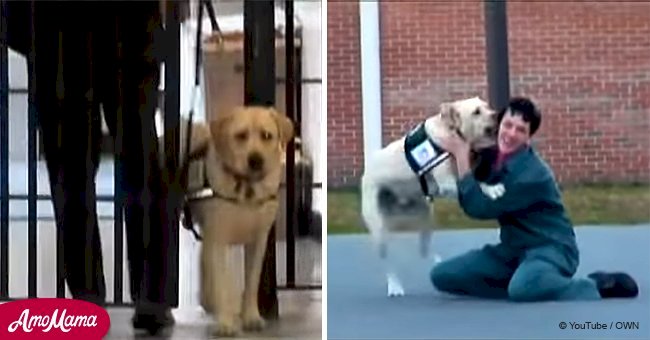 Dog visits prison with officer and her reaction on meeting one of the prisoners is priceless

Pax, the dog that heals souls had an emotional reunion brought on by the gratitude of his new owner.
Injured Iraqi veteran Bill Campbell came home with 100% disability after a concussive brain injury. In gratitude for the service to his country, Campbell received a yellow Labrador retriever named Pax.
Source: YouTube/ OWN
This special dog was trained at a women's correctional institution where selected inmates train dogs for approximately a year before they are ready to be a companion for the selected veteran.
After receiving Pax, Campbell's life changed, he wanted to show his appreciation and gratitude and decided to take a trip to the correctional facility where Pax got trained to give thanks to the trainer in person.
Source: YouTube/ OWN
Read more on our Twitter account @amomama_usa.
Once at the correctional facility Campbell and Pax made their way to the outdoor area where he would meet the person that trained his special companion.
Source: YouTube/OWN
Pax's tail wagged more and more the closer they got to the outside area, remembering the scents and other familiarities. Upon reaching the designated area his former trainer Lori Kellogg came running calling Pax's name and without hesitation, he ran to Lori, not able to contain his happiness at seeing his former trainer again.
Source: YouTube/OWN
Elated he jumped around and into her embrace as the two shared a special moment. Lori shed tears of joy as she hugged and played with him.
It appears Pax helped save two people in a very special way - recovering and putting their pasts behind them, helping restore pieces of themselves.
The unwavering devotion these dogs have towards their disabled owners, doing all they can to provide them with the care they have been trained to give is special, and they too need a day of pampering.
George, a massive Great Dane enjoyed a day of bliss in appreciation for his service to 11-year-old Bella, diagnosed with a rare progressive disorder called Morquio Syndrome, which affects her mobility. Receiving George changed Bella's life and with aid from George, Bella could walk around again, he gave her the freedom of mobility back and his devotion.
George's day of bliss started at the Fairmont Copley Plaza where he got given a tray full of Wahlburgers after which he got to play around in the snow, one of his favorite activities, then it was off the Polka Dog Bakery for some tasty treats.
They returned to the Fairmont Copley Plaza where an entire suite got filled with toys for him to play with. After the long day of pampering and fun, it was finally time to take a nap on his new luxurious mattress.
A heartwarming gesture showing the appreciation they have for their canine friends making their lives better every day.
Dogs like Pax come from a special program that does more than train certain types of service dogs. The Puppies Behind Bars program is groundbreaking, transforming the lives of their eventual owner and their trainer.
At the Fishkill Correctional Facility in upstate New York selected inmates are given 8-week-old puppies and taught to train these pups to become service dogs for the disabled war veterans returning from Iraq and Afghanistan. The prisoners and puppies are together 24 hours a day and sleep in crates in their chosen training inmates cell.
For these inmates, it's a life-changing experience as the bond they establish with the dogs in their care help with healing feelings of worthlessness and teaches the value of unconditional love, which many have never experienced. A life-changing program of healing for everyone involved.
Source: Oprah.com
Please fill in your e-mail so we can share with you our top stories!