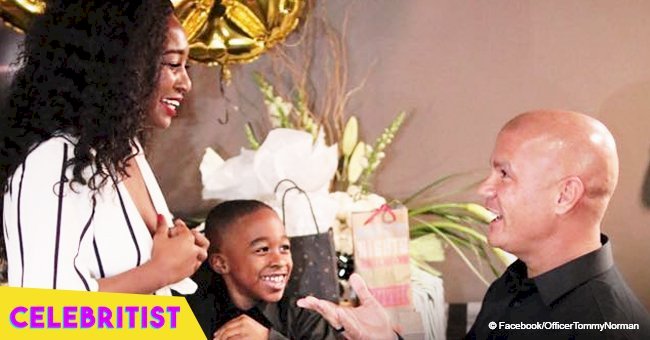 Video of inspiring police officer Tommy asking the love of his life to marry him went viral
One police officer found himself held captive by a woman's love and decided to do the next reasonable thing: Marry her. He'd gone viral on social media many times before, but this proposal video was on a completely different level.
North Little Rock officer, Tommy Norman, is arguably America's favorite policeman. Norman is known for his social media posts that have gone viral on many occasions, thanks to his acts of kindness.
His videos mostly showed him going about his duties, playing with kids, and helping people out. On one occasion, he came to the aid of a pregnant, homeless woman and her baby, who turned out to be a victim of domestic violence.
Norman was ordered by his superiors in June 2017, to stop posting videos while on duty, and even though the likable officer was not happy about it, he complied.
But Norman went viral again in November 2017, and it wasn't because he disobeyed his bosses. The famous cop was taking the first step to forever with his fiancée, Rosalynd Guiden.
Guiden was celebrating her 30th birthday at Samantha's Tap Room and Wood Grill in Little Rock, Arkansas when Norman stepped out to give a speech.
The officer reflected on the first time he met Guiden at Walgreens three years ago, noting that theirs was love at first sight. He also recalled the moments of their first kiss, the first time she said she loved him, and the first time she cooked him a meal.
Norman also told family and friends gathered about a trip they made to Denver Mountain where Guiden stood by him and chose not to climb further because he was scared of heights.
"I don't feel worthy to have Rosalynd in my life," he said. "You're beautiful inside, and you're beautiful out, and I just want to thank you for allowing me in your life."
Norman then retrieved a ring box from his pocket as Guiden's son, Reilly clapped joyfully.
"I want to ask the love of my life if she will marry me," said the officer as he got down on one knee.
Guiden, overwhelmed and teary, went in for a hug with her fiancé. She even forgot the ring which was by then in Reilly's possession. The little boy could not contain his excitement about the whole affair.
Soon, friends and family surrounded the newly-engaged couple who danced together afterward. The sweet video went viral almost immediately and had garnered over one million views already. Many of the comments also congratulated the charismatic officer on taking the big step with the love of his life.
POLICE GOING VIRAL
In another incident of cops going viral, officers of the Norfolk Police Department took part in the lip-sync challenge with a performance of Bruno Mars' hit song, "Uptown Funk."
The department filmed an impressive show that saw them joined by firefighters and administrative personnel. They also used props like miniature traffic cones and official vehicles to spice up their routine. It was as hilarious as it was entertaining.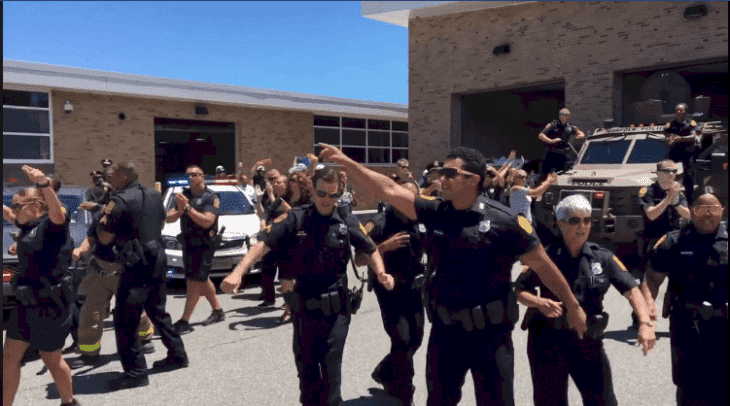 Facebook/Norfolk Police Department
You can check out that video here.
Please fill in your e-mail so we can share with you our top stories!