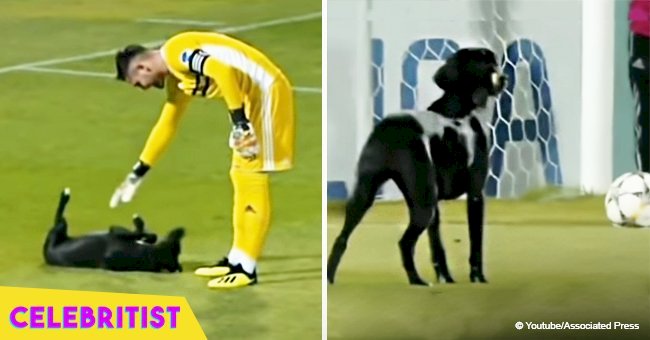 Dog interrupts football match to ask for belly rub in adorable video
An adorable video of a stray dog storming into a football game and asking one of the players for belly rubs has been melting hearts all over the Internet. The pooch treated the field like a giant dog park, earning laughs from the audience and coos from the players.
According to BBC, a match of the Erovnuli Liga in Gori, Georgia between FC Dila and Torpedo Kutaisi was interrupted out of nowhere when a surprise four-legged friend made his way into the field. The black, playful dog was trying to get in the game too, as he ran across the field jumping on some of the players.
DEMANDING BELLY RUBS
He eventually settled for the goalkeeper's attention. As the delighted man tried to get the dog to calm down, hoping to get him out of the field, the adorable canine flopped on its back to present his belly as if demanding to be pet.
The pooch kept on wagging his tail, as the goalkeeper seemed cautious by not wholly rubbing the pet. Other members of the team and even some of the staff tried to take the dog out of the field by calling its attention, but he just kept jumping around, visibly excited by making so many new friends.
Finally, one player went along with the naughty dog while running with him in the direction of the stands, and the dog even pulled on his shorts at some point. The video ends with the player and the dog reaching the limits of the field, but realizing the trap, the dog turns away to go back in.
According to reports, the pooch was led off the field and taken back to the stands. But he had the time of his life while it lasted.
The game ended up 0-0, but the audience went away with a good story to tell their friends.
ANOTHER PLAYFUL POOCH
Dogs love to play around, whether is with his human friends, or his four-legged ones.
Like Jack, a boxer dog who discovered he could prank his brother Archie by pretending to play dead. Their owner, a girl named Sam, caught the moment Jack decided to "drop dead" while playing with Archie, and the later's reaction made the dogs a pair of Internet stars.
Confused and scared, Archie starts crying, howling and whining while laying down next to Jack, who played his role by laying on his back with his paws in the air and the tongue flapping to the side.
Eventually, Sam pities Archie and tries to console him while saying Jack "is not dead," but the dog keeps on crying as the prankster stays still while keeping up his act.
Sadly, Jack passed away last year, but he's remembered as the happy prankster he was.
Please fill in your e-mail so we can share with you our top stories!