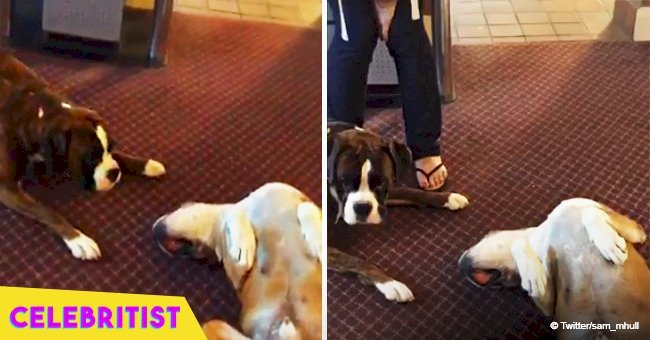 Dog freaks out and won't stop crying when his furry friend plays dead in viral video
Having many pets at home can be a lot of work, but also a lot of fun. And the mother of these two dogs surely has great days thanks to their occurrences. In a viral video of the pair, Jack scares his brother Archie by playing dead.
Archie and Jack became Internet stars after their owner, a girl named Sam, shared a hilarious video that shows Archie's reaction to his brother playing dead.
The inseparable duo was playing when Jack decided to drop dead, playfully, knowing pretty well the reaction he would elicit from his brother. The dog lay on his back with his paws in the air, his eyes closed and his tongue was hanging to a side of his mouth.
As Archie noticed something was off, he started to howl, bark and whine, visibly worried about Jack while the prankster stayed entirely still, playing the role to perfection. Archie keeps on crying as a woman gets closer to console him saying "he's not dead," but the dog looks at her with pleading eyes as if prompting her to do something.
Even though the video ends before Jack finished his performance, Sam explained that since he discovered he could scare his brother, he seems to enjoy playing dead.
SAD NEWS FOR JACK'S FANS
The 15 seconds video, recorded in 2016, has gathered more than 2.8 millions of views on Twitter.
Unfortunately, Sam shared some sad news about Jack last year.
"RIP Jack. You kept us all laughing right up until the end. Sleep tight boy," she wrote in a Tweet with some photos of the prankster dog. Sam also assured her followers that Jack had an "awesome life."
Like Jack, many other dogs love to play dead to scare their canine or human friends, and sometimes, they also use it as a tactic to get free food and petting.
TIZÓN, THE MASTIFF ACTOR
Like Tizón, a black Mastiff dog who works as a shepherd. The dog has become famous these days after a Twitter user shared his story: Tizón pretends to be dead when people are walking around the Barranca, in Spain, gets close to him. He does it to earn their sympathy and petting, and, if lucky, some food.
Manuel Delgado, a passerby, recounted how he saw a couple standing near a ditch where the dog was laying apparently unconscious. Since he had a collar, the couple tried to dial the number on his plaque, but the number was unavailable.
Not knowing how else to help the animal, that would eventually whine, the couple left. But Manuel decided to call the police and see if they could do something for the dog. However, the first thing the operator asked was "is it a black mastiff dog?" and proceeded to explain to Manuel that there was nothing wrong with Tizón and he was just playing him.
The operator told Manuel to walk away, and he would see how the dog would stand up and walk as if nothing. And indeed, he did it. But when he returned to Tizon's side, the dog went back to his amazing histrionics, pretending to be hurt.
"Tizón is the best actor I've seen in a long time," he said. "He must weight around 70 pounds and has a huge jaw and neck that he could use to rip your arm off without making an effort. But he doesn't want your arm. He wants your food and your caresses."
Please fill in your e-mail so we can share with you our top stories!