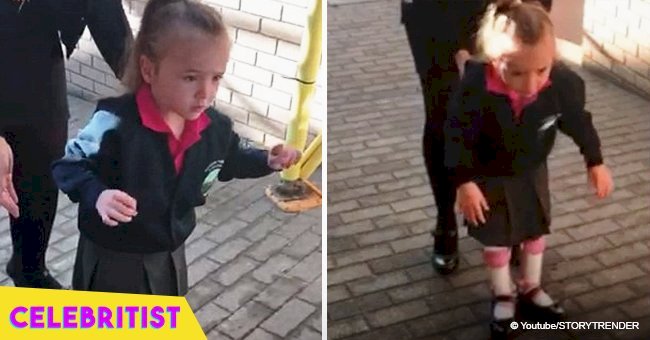 Girl with cerebral palsy makes first steps to school without crutches in emotional video
The first day of school usually comes with a variety of emotions for everyone, from children to parents, to teachers. For the little kindergartener in this story, her first day proved to be as emotional as expected, and even the internet agrees.
In the YouTube video found below, a four-year-old girl with cerebral palsy took her first steps without help as she went to school for the first time.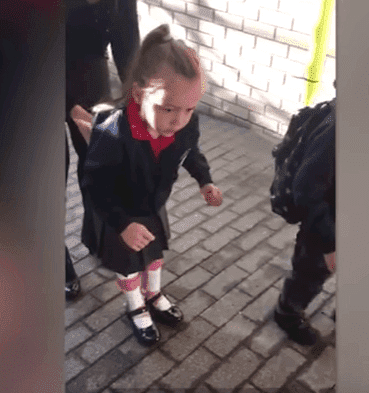 YouTube/STORYTRENDER
Millie Bea Hughes, originally from Carnforth in Lancashire, has melted the hearts of many Internet users. The girl had told her mother she wished to cross the doors of the nursery school alone on her first day.
When the day came, Millie headed for school, accompanied by her mother, Natalie, and her twin brother, Evan. Despite the difficulty, Millie was very determined, and Natalie could not help filming as her daughter attempted the feat. She captured Millie's first steps on camera.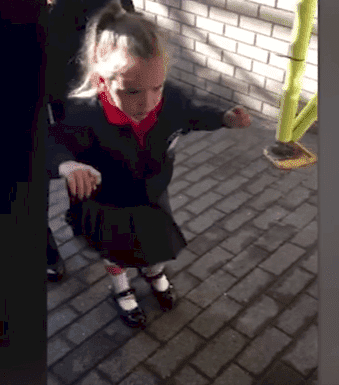 YouTube/STORYTRENDER
The overwhelmed mom said:
"Millie was so determined and wanted to do it. It makes me cry every time I watch that video. Evan was encouraging her, you can see his little feet in the clip and hear him ask, 'Shall I get your sticks or a toy?' It's really sweet."
Millie was born with cerebral palsy, and in her four years of life, has had to undergo some expensive treatments and painful physical therapy sessions.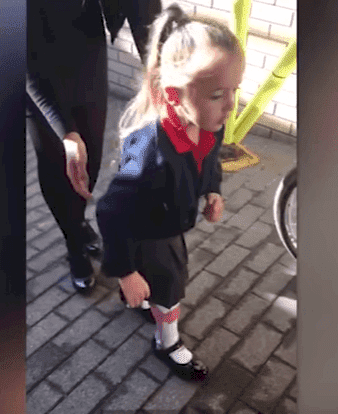 YouTube/STORYTRENDER
Before getting a Selective Dorsal Rhizotomy (SDR) surgery, Millie found the most straightforward tasks impossible; she could not kneel or move with ease. Now, however, the little girl is much more confident and comfortable. Through it all, she's always had a supporter in Evan.
"It makes me really, really proud," Natalie confessed. "She's come so far with all her physio and Evan always wants to help her. It's just nice to see him be there for her and wants her to walk as much as she does. They love each other very much, and he'll ask, 'Are you ok, Millie?' and try and help her."
She continued:
"Yesterday was her first time walking in public unaided, something made possible by an intensive strength and conditioning course at specialist therapy center Walk This Way in Perth. She's struggled with confidence so I'm hoping our next visit there will really help. She's now able to do things she couldn't do before the operation and is smashing it – I'm so proud of her."
Here's wishing Millie everything she needs for a fabulous life!
BEATING CEREBRAL PALSY AT ITS GAME
Millie's story brings to mind that of Olivia Towles, the seven-year-old Kentucky girl with cerebral palsy who wowed the crowd at a minor league baseball game with her rendition of the "Star-Spangled Banner."
Olivia was helped to the microphone by her mother, and despite her condition, she was not nervous or afraid. Surprisingly, it was her mother, Courtney, who was a nervous wreck.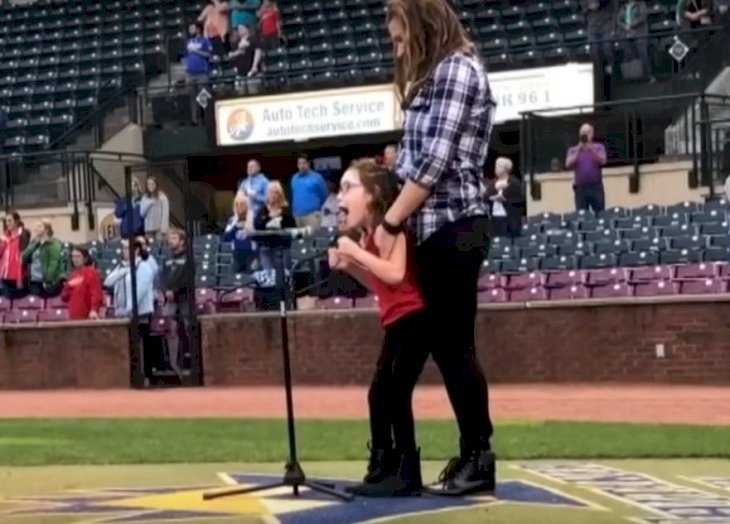 YouTube/Inside Edition
You can read more on that story and see the touching video here.
Please fill in your e-mail so we can share with you our top stories!