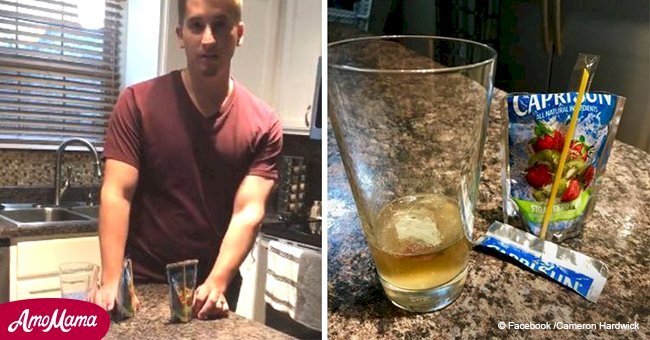 Father warns parents after finding mold in 3-year-old's juice box (video)

Cameron Hardwick recently took to Facebook to caution other parents after he found a piece of mold in his three-year-old daughter's juice box.
On September 24, Hardwick, from Columbus, Indiana, shared a clip alongside two images on Facebook describing mode inside his daughter's juice pouch.
The dad-of-two said in the viral post that he grabbed a few Capri Sun juice boxes as an after-dinner treat for his girl.
Follow us on our Twitter account, @amomama_usa, to learn more and scroll down to watch Hardwick's video below.
But when he pulled them out of the refrigerator, he noticed one of them was not as full as another Capri Sun in his home.
In the video, Hardwick can be seen shaking up the juice box and says there that it was missing of any holes. He then empties it into a glass. This is where we see "some kind of mold" drifting in the juice.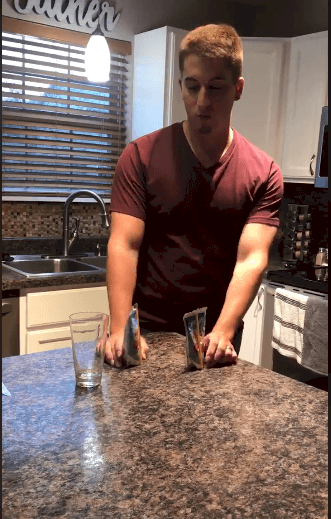 Source: Facebook/Cameron Hardwick
"This was a treat for our three-year-old, and it's just really not acceptable," he can be heard saying in the video.
"Just wanted to pass [this] along to other parents and grandparents, so you guys are aware of it too. I read about this in the past, but just kinda surprising it's still going on," he added.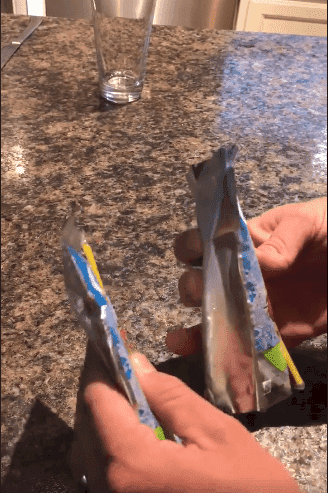 Source: Facebook/Cameron Hardwick
At the point when the company found out about Hardwick's video, Lynne Galia, the Capri Sun spokeswoman, said the company's quality team tried the juice box in question and insisted that a cut caused the mold, as reported by Shared.
The father was informed by the company's discoveries. Galia said, "We understand it's unpleasant, but the mold is naturally-occurring, just like if you left an apple on your counter for too long and mold begins to grow."
She added, "The company introduced new packaging in 2014 that is clear on the bottom, so parents can check each Capri Sun for freshness."
"We also recommend gently squeezing each pouch to check for leaks before serving Capri Sun to their kids. Leaky or punctured pouches should be discarded," Galia continued.
Expectedly, Hardwick's notice will make parents more involved at double checking what their youngsters are consuming.
Meanwhile, another parent named Maryanne Mifsud Pickering also warned the others about the children's favorite toy called Bunchems.
The Australian mother recently shared a photo of her daughter to show what can turn out badly if your children put the toys where they don't belong.
Pickering was left frustrated by the Bunchems after discovering her girl's hair tied in pieces.
Please fill in your e-mail so we can share with you our top stories!