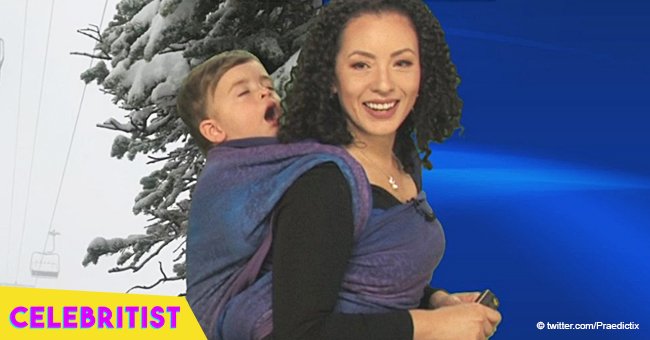 Meteorologist wears toddler son on her back during forecast
A meteorologist goes viral after she dares to deliver her weather forecast with her toddler strapped to her back. The adorable video of the toddler dozing off as she goes about her report is pure joy.
A meteorologist for a weather company called Praedictix makes an adorable statement when she wears her sleeping son on her back while delivering her weather report.
Susie Martin, an advocate for babywearing used her job to promote "International Babywearing Week" on air. The devoted mother used a purple and blue cloth wrapped around her to carry her 21-month old son on her back.
The Twin Cities resident told her viewers that it was International Babywearing Week so she decided to bring "an assistant today to help walk us through the forecast." However, her son didn't seem to be up to the task as he was caught on camera, yawning himself to sleep.
Meanwhile, Martin went on her way to deliver the weather report alerting her audience of an upcoming snowfall and sever changes in temperature. All the while her toddler cozied up behind her.
Martin feels strongly about babywearing that she hopes to inspire others to do the same. She wrote about this passion in a blog post.
"Babywearing has been a passion of mine since my son came into my world. It has been an invaluable tool for me as a mother and helped me and my son bond during the early stages of infancy. Not only that, but it was and still is incredibly liberating to be able to comfort my child whilst doing other tasks, which has helped me be a happier mom."
She's also said she's grateful for the support of her superiors in allowing her to carry her son behind her while doing her job.
Martin's weather forecast went viral as soon as people witnessed it. She was stunned and happy with the response, learning she brought smiles to people's faces. Watch the adorable clip below.
It wasn't the first time Martin wore her son to work. Last year, on the same day, he also brought her son along for a forecast for Spectrum News Kentucky. Her stunt was so well-received that she decided to do it again this year.
According to Babywearing International, babywearing is a practice that's universally acceptable and has many benefits. Aside from the obvious that it allows parents to move their arms freely while toting their child it's also believed to promote breastfeeding and reduce infant crying. Martin is fortunate that her work allows her to maximize babywearing, something not many employees with their jobs. But if parents can find a way to incorporate babywearing in their work, Martin is all for that.
Please fill in your e-mail so we can share with you our top stories!