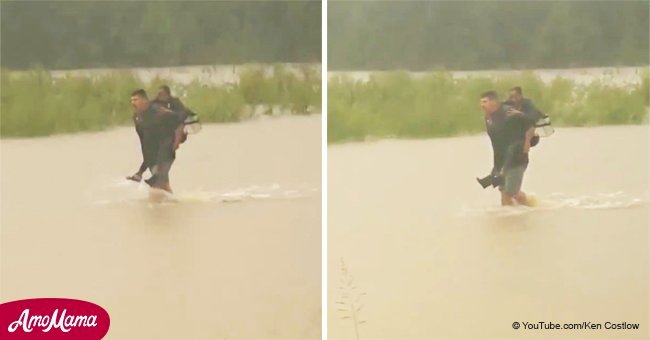 Man gets out of car as he sees woman trapped in flooded vehicle disappear underwater
A trapped woman got rescued as water poured into her vehicle moments away from being submerged.
Eden Russom from Caddo Mills, North Texas got stranded when her car stalled in a ditch after a severe storm. Water poured into the vehicle and she had no way out. As time was running out she spotted a vehicle passing nearby and tried to flag it down as best she could.
Source: YouTube/Ken Costlow
Danny DeArman and his wife were the occupants of the car Russom saw. While driving they noticed the service roads were flooded and spotted a few cars off the side of the road. They stopped to make sure the drivers were ok, and that's when they saw Russom's attempts to get their attention.
Without a second thought, Danny jumped out of his car while his wife Sarah called 911. For a few frightening moments Danny got caught up in the heavy current and got pulled underwater, but resurfaced, and with the help of another man, CJ Mashburn they shattered a window of Russom's car and pulled her out as it was moments away from being completely submerged.
Sarah filmed the moment Danny hoisted Russom onto his back, carrying her to safety through the floodwaters. Paramedics arrived shortly after and Russom didn't get the chance to thank her rescuer.
Afterward, Russom found out her rescuer was the head football coach at James Bowie High School in Arlington and planned to thank him in person. The following week Danny received an email about a last-minute school assembly and as he walked outside it became clear, it was just a ploy set up by the students and staff. Instead of welcoming a parent, Russom was there waiting to reunite and thank him for saving her life.
Rescuers often come from unexpected avenues when needed the most, like the rescue attempt that made news in Lake Worth, Florida in September 2015. A mother and her three children ended up in a canal after the mother lost control of her SUV and drove through a guardrail and down the embankment and into the canal near John Prince Park.
The SUV was sinking fast, but thankfully Chris Schuddekopf and his friends, homeless people who spent their nights in the park, saw what happened and rushed over to help. They jumped in, pulling the three children out first, followed by the mother and carried them up the hill to safety.
Strangers often go above and beyond to save those in need, often with disregard to their own well being, as with off-duty security officer Tamy Geerts from Placid Lake. She was driving with her two children one Saturday afternoon near the intersection of Lake Michigan Drive and 84th Avenue, in Allendale Township when she saw a car in the water busy sinking.
Without hesitation she dove into the water, leaving her 6-year-old son and 9-year-old daughter in the SUV to save whoever was in the sinking vehicle. Water was already waist height when she got to the only person in the car. The man was unresponsive but conscious and seemed unaware of what was going on around him. She eventually managed to drag him through the back window and swim with him to shore and safety.
Please fill in your e-mail so we can share with you our top stories!