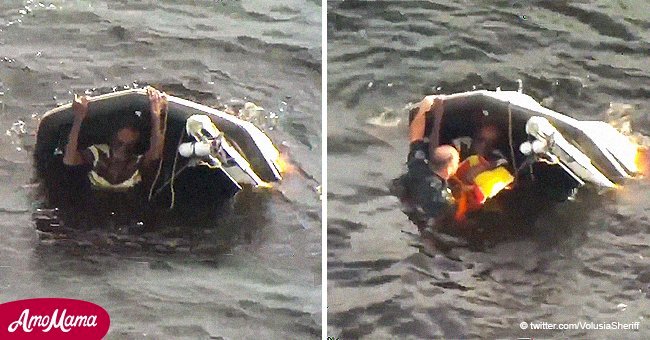 A heart-racing footage shows deputy rush to save elderly man, 72, clinging to boat for dear life
Freddie Stills clung to hope of being rescued while spending hours in choppy waters unable to make it to shore after the boat capsized.
Freddie Stills, 72 and a fishing buddy, Earnest Jones, 73, both from DeLand, Florida went fishing on Lake Monroe around 10 am Monday using the Enterprise Road lakeside dock to launch the boat for a day of fishing.
Source: YouTube/ Volusia County Sheriff's Office
The water was very choppy, creating white caps so Stills and Jones headed back around 2 pm, but their boat took on water from the rear and the back became submerged, causing the boat to capsize before they could get back to shore.
With both men in the water Stills retrieved his life vest and held onto the boat. Jones already had his life vest on but was not secured properly, his energy failed him and he drifted away, his life vest appeared to be wrapped around his neck.
Read more on our Twitter account @amomama_usa.
Source: YouTube/ Volusia County Sheriff's Office
Stills could do nothing but hold on to a portion of the submerged boat and after about 20 minutes he lost sight of his friend Jones, unable to swim well.
Stills spent the night holding on to the submerged boat waiting for help to arrive. On Tuesday Jones' daughter called 911 after locating his vehicle that was still at the dock at Lake Monroe to report that her father had not returned from his fishing trip.
Around noon on Tuesday, a sheriff's helicopter located the capsized boat allowing the rescue boat to get to them as quickly as possible. When the rescue team from the Florida Fish and Wildlife Conservation Commission arrived Stills' exhaustion was evident, and a deputy leaped into the water, handing Stills a lifejacket before pulling him to the rescue boat and abroad to safety.
Source: YouTube/ Volusia County Sheriff's Office
The body of Earnest Jones was found shortly after in the lake. Stills was taken to Florida Hospital Fish Memorial in Orange City, his wife reported on Wednesday that he was doing better but still in the hospital.
Police said afterward:
"The Florida Fish and Wildlife Conservation Commission took over the investigation and our hearts go out to the family and friends of the gentleman who did not survive."
Source: YouTube/ Volusia County Sheriff's Office
Authorities urged citizens to be careful as a recent update following the wake of Hurricane Michael claimed its first life when a man was killed by a falling tree. Spokeswoman Anglie Hightower of Gadsden County Sheriff's Office says they received a call around 6 pm Wednesday, saying a tree had crashed through the roof of a man's home in Greensboro, trapping him. Emergency crews struggled to get to the man as downed power lines and blocked roads made it difficult. Officials have not released the man's identity.
Reporters from various news outlets have been covering Hurricane Michael's progress keeping people worldwide informed of developing conditions every step of the way. Being the third biggest storm ever to hit the Continental US. They urged citizens of the affected areas to be responsible and stay safe while they often found themselves in less favorable conditions.
During their live coverage of events, they braced weather conditions of extreme winds and rain in order to relay important and actual progression of events as they unfolded, and still appeal to the citizens to be extra careful as flooding, downed power lines and debris make conditions dangerous.
Please fill in your e-mail so we can share with you our top stories!