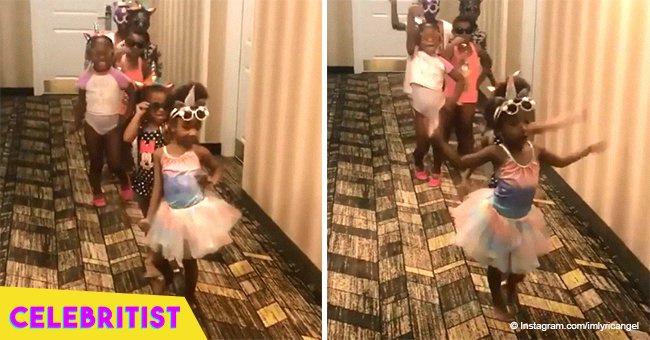 Video of little girls' swim strut becomes new viral sensation
A five-year-old girl and her friends were celebrating her birthday party with a sleepover at a hotel, so, when the time came for them to go to the pool, the girls did a very ferocious performance in the hallway to show their excitement.
Lyrica Angel celebrated her birthday like a boss. Her mother, Angel Dixon, decided to rent a room at the Residence Inn, in Washington D.C for Lyrica and her friends. The rainbow/unicorn themed slumber party gave the girls the chance to enjoy a different afternoon while rocking their colorful swimsuits and pajamas.
After enjoying all the treats Lyrica's parents prepared for them in the room, the girls had to enjoy the pool before it was closed, but some of the guests had not arrived yet, and the girls were getting impatient, so Lyrica's grandmother came with an ingenious solution to calm them down: she taught them "Da' Pool" song.
Wearing vibrant, colorful swimsuits, sunglasses, and with Lyrica on the lead rocking a rainbow tutu and a unicorn headband, the girls took over the hallway of the hotel and made it a runway as they sashayed with a lot of attitudes.
"Hey, ladies, where you going?" Grammie can be heard asking in the video. "To the poooool," the line of little girls replied."Whatcha going to do at the pool?" continues the lady, and she gets an excited "Swwimm," as a reply.
The girls were feeling the rhythm as they strut down the hallway, dancing and moving their hands like little divas before making the final pose while taking off their sunglasses and staring at the camera.
The adorable video has earned over 3k views on Instagram and has been featured on several TV shows like "Good Morning America," "The Real," and the "Today" show. Supermodel Naomi Campbell and actress Jada Pinkett Smith also shared the video on their Instagram accounts.
"We are starting a challenge so that everyone can make their own version of the original video," Dixon told "Good Morning America." "Basically, change the word 'pool' and 'swim' to wherever they are going and whatever they are doing."
ANOTHER VIRAL SENSATION
A toddler stole hearts all over the internet when she refused to accept that her way of counting up to five was wrong. She argued with her dad for a few minutes, insisting that the correct way was "1, 2, 3, 5!" over and over. But her father, a teacher, was trying to correct her mistake.
The pair discussed while walking to the parking lot, and the amused mom recorded the entire argument. She then decided to step in, asking the girl to count to four, and that was the only way the adorable toddler acknowledged the previously neglected number.
Please fill in your e-mail so we can share with you our top stories!