Mariah Carey shows off slimmer figure in clinging bodysuit in new music video
Mariah Carey is back to the music scene, and her new music video gave fans a glimpse into her luxurious life in Los Angeles. The mother of two showed off her curvaceous figures in a series of outfits, but a tight bodysuit stood out from the rest.
.@MariahCarey is the queen of her L.A. castle in sultry "With You" video https://t.co/Cy7C3Jh1MU pic.twitter.com/sDDsfxKb7K

— billboard (@billboard) October 11, 2018
A few months ago, Carey announced she will be releasing her 15th studio album in the upcoming months and has been teasing her audience about it since then. After the upbeat "GTFO," Mariah has now released the steamy ballad "With You," and its music video is everything fans were expecting of the singer and more.
In a classic Mariah-move, the black and white visual follows the soulful singer around L.A, wearing different glamorous outfits and showing off her diva attitude while captivating hearts by singing directly to the camera.
The 48-year old is seen strutting down the Hollywood Walk of Fame wearing a black dress and fur coat, driving around town in a vintage car, enjoying the night view from a balcony, casually sipping tea, laying on the bottom of a spiral staircase and dancing around outside a lavish mansion with potted palms.
She wore a strapless tight black bodysuit that enhanced her curves in all the right places, and completed the simple but effective look with a pair of black stilettos, letting her blonde locks fall on her back.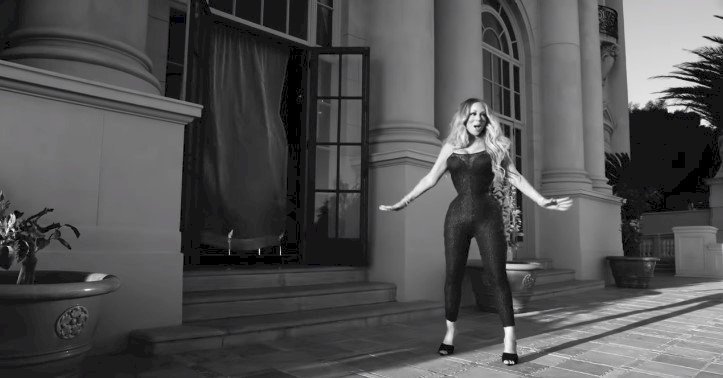 The other outfits included a white bathrobe slipping off her shoulder, a tight corset and an elegant sleeveless gown with a thigh-high slit. Even though the edition of the video doesn't allow fans to fully appreciate all the colors and details on the singer's clothes, she rocked all of her outfits with confidence.
According to Entertainment Tonight, Carey shoot the video, directed by Sarah McColgan, on September 16 and 17 around Hollywood Boulevard and at the famous Fuchs Mansion in Pacific Palisades.
The "We Belong Together" singer first revealed the single with a live performance at the American Music Awards last Tuesday, and her pitch and tone were so on point that some doubters started to wonder if she was lip-syncing.
.@MariahCarey is a vision of feathers & pink during her performance of "With You" #AMAs pic.twitter.com/6JkCNnkI2L

— Microsoft Theater (@MSTheater) October 10, 2018
MARIAH STUNS AUDIENCE WITH AN OLD HIT SONG
But a few months ago, Carey already had proved she's still the same powerhouse vocalist she was years ago, when she did a heartfelt performance of "We Belong Together" at the 2018 iHeart Music Awards.
She looked breathtaking in a glittering ensemble consisting of a mini dress and a long black jacket, but it was her voice that had fans cheering. The soul diva also performed other hits like "Always Be My Baby," "Emotions," "Honey," "Beautiful," and "GTFO."
Even though Carey still doesn't have a release date for the upcoming album, her followers have high expectations for it. And since the reaction for "With You" has been so good, is safe to assume Mariah has a high possibility of owning the charts.